'Explosive and committed', Nevin was a future great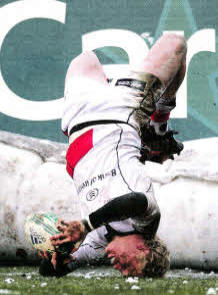 'Explosive and committed', Nevin lands on his head as he scores a famous try against Bath In the Heineken Cup at the Recreation Grounds, Bath in December 2010. Picture by Matt Mackey/Presseye.com.
'EXPLOSIVE and committed', that is the way local rugby star Nevin Spence was described this week by his school rugby coach Neil Hinds as he paid tribute to his former pupil.
The young Ulsterman certainly proved to be just that, putting himself on the line for his club and country on many occasions, including during that infamous try at Bath when he got the five points for Ulster during their Heineken Cup clash, landing on his head on the hardened winter ground. But the points were what mattered.
Neil Hinds, the Master in Charge of Rugby at Wallace High School, said he has 'fond memories' of his time with Nevin.
He commented: "Nevin arrived at Wallace from Dromore High School in 2006 and quickly settled into school life. He was a talented and hard working pupil who made friends easily both in class and on the rugby field. He loved the team ethos and the camaraderie with his team mates and opposition.
He was an explosive and committed player who was blessed with an abundance of pace, agility and coordination. Nevin was a match winner, a go to man and a game changer.
He gave everything he had on the pitch to attain victory and left everything on it.
"The Wallace High School wish Emma, a speedy recovery and our thoughts and prayers are with her and the whole Spence family at this time."
David Humphreys, Director of Rugby at Ulster said this week: "Nevin was a dream player to work with. He was the epitome of what we were looking for. On days when nobody else wanted to come in and train, he was there leading from the front.
All he wanted to do for the remainder of his career was to stay here, win trophies and be successful for Ulster. He brought his commitment, his passion and his enthusiasm every time he played.
"The characteristics that he showed when he played, those were very much transmitted into how he conducted himself off the pitch."
Shane Logan, Chief Executive of Ulster Rugby, added: "I am deeply saddened by this tragic news. Nevin was a wonderful player but also a wonderful person. He was well liked by everyone who knew him and his loss will be deeply felt by his team mates and everyone at Ulster Rugby."
Former Ulster head coach Brian McLaughlin stated: "Nevin was not just super rugby player, he was a super guy, bright and breezy. He was full of life and fun to be with and a delight to coach.
"He was really into his religion and his beliefs, but he would never force anything on you. He was just so honest, and a lovely bloke. It's heart-breaking.
"I keep having flashbacks of Nevin, and one that continually recurs is that brilliant try he scored in the right hand corner against Bath in December 2010. He ended up doing a head flip after he had dived in. It was the first image that came to mind when I woke up, and now I just can't get it out of my head."
'Explosive and committed', Nevin lands on his head as he scores a famous try against Bath In the Heineken Cup at the Recreation Grounds, Bath in December 2010. Picture by Matt Mackey/Presseye.com.
---
Principal pays warm tribute to former pupil
THE Principal of Wallace High School, Mrs. Deborah O'Hare, has paid a warm tribute to former pupil Nevin Spence.
It is just a few years since Nevin was a pupil at the local school and he was a regular visitor to the school, often returning to see pupils and staff.
Nevin was at the school just last Friday, and all at the school deeply feel his loss.
Speaking on behalf of the Wallace community, Mrs. O'Hare said: "It is with immense sadness that we learnt of the tragic accident which has taken the lives of three members of the Spence family.
The loss of Nevin, our much respected former student and a role model for so many young rugby players, his brother Graham and his father Noel, is a devastating tragedy. Our thoughts and prayers are with the Spence family. We wish our colleague Emma Rice a full recovery.
Elsewhere, members of Hillsborough Young Farmers' Club, many of whom knew Nevin and his family, paid tribute to the family.
"The members of Hillsborough Young Farmers Club have been shocked and deeply saddened by the news of the tragic deaths of Noel, Graham and Nevin Spence. Although the Spences were not members of Hillsborough Young Farmers Club, they were well known by, and friends of, many past and present members as well as the local community.
The Spence family are a very recognised and respected family within the Hillsborough/ Drumlough community and afar. On behalf of all who are, and have been involved in Hillsborough Young Farmers' Club we would like to express our deepest heartfelt sympathy to the extended Spence family and to let them know our thoughts and prayers are with them at this difficult time."
Nevin watched Lisburn Rugby Club play at Dromore on Saturday, paying tribute to the local player on their website, Lisburn Rugby Club said: "He who has gone, so we but cherish his memory. Lisburn Rugby Club, members and supporters would like to express their deepest condolences to the Spence family. Your presence is a gift to the world, You're unique and one of a kind."
The club will also hold a minute's silence before their match at home to Randalstown tomorrow.
The captain of Ulster Rugby, Johann Muller, has said Nevin Spence will never be forgotten by the squad.
Speaking this week, he commented: "On behalf of the entire Ulster Rugby squad, I would like to extend my heartfelt sympathy to the Spence family at this time.
"Nevin's loss will be felt deeply by us all. We are equally saddened by the tragic deaths of his father Noel and his brother Graham. The thoughts of every member of the squad are with Nevin's mother Essie, and his sisters Emma and Laura. We would also like to pass on our condolences to Graham's wife and children. We wish Emma a full and speedy recovery.
His positive outlook on life brought a smile to people's faces. He was kind, polite, generous and courageous, and we were blessed to have him in our team. The one comfort for us as a squad is that we have each other for support. It has been a difficult time for the players and coaches but I believe that through this tragic loss, we will have a new sense of togetherness.
I and the rest of the Ulster Rugby squad would like to thank the many people who have sent messages of support to the club, not only from within the Province, but throughout Ireland, Europe and the world. It is clear from these messages that Nevin was highly regarded by players and fans of many different sports, in many different countries.
"I would like to thank the organising committee of the RaboDirect PRO12 for postponing this weekend's game with Zebre and for allowing us the space and time to begin to come to terms with Nevin's loss.
"In the coming weeks, the Ulster Rugby team will return to the pitch. Over the course of the rest of this year and in future seasons we will experience wins and we will no doubt suffer defeats. Players will move on or retire and new players will come in and represent the Province. But going forward, at Ulster Rugby, one thing will never change. As long as this great club exists, the person and the player, Nevin Spence, will never be forgotten."
Ulster Star
21/09/2012