VOTE, VOTE, VOTE YOU can vote all week for Adam and Rebecca by calling 0901 121 4003 or by texting `Vote, 3' to 63633. Calls cost 25p with at least 12p going to Comic Relief and texts cost 25p plus standard message rate, 11p goes to Comic Relief.
Remember, unlike the May 5 elections, you can vote as often as you like!


Rebecca -'I'm loving it' but I still need your support
LISBURN'S newest television star, Rebecca Leonard, has danced her way into another week of the BBC's Strictly Dance Fever competition.
Rebecca was ranked in third place by the judges on last Saturday's show, after she and her dance partner Adam, won them over with their technically beautiful hustle to the Bee Gee's classic 'How Deep Is Your Love'.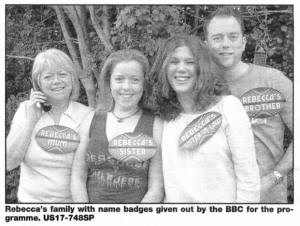 Despite harsh comments the previous week, judge Arlene Philips was won over by the couple's performance, deeming it "fantastic", while fellow judge Stacey Haynes chose them as her favourite couple of the night.
Taking a quick break from rehearsing, Rebecca was allowed to break the show's curfew on contestants to speak to the Star.
"I am really enjoying it," said Rebecca, "I really love it here. "Monday is the most intense day because we have a day of master classes.
Every week we have to learn a new style of dance, for example this week we have a lambada specialist in who teaches us the basic moves and then from Tuesday we rehearse and choreograph our dance for Saturday night.
"The dance coaches are brilliant. Vanessa is a little stricter and Kevin is just lovely. We work hard because we don't want to let them down.
"When is comes to nerves the Saturday is probably the worst day for me. I was so nervous last week. We have so much fun in the house and I love being here but by Saturday night it hits you that somebody is going to leave, which is why I need everyone to keep voting for me to stay in the competition.
"Everybody has started to become friends and it is hard to see someone leave. I shared a room with both of the girls who have left and we have a running joke that they are just going to get rid of us one at a time from the room.
"I loved the hustle last week because I love seventies music. I loved the whole theme of it. I must confess we struggled the week before and I suspect we are going to struggle this week as well because we have never done anything like this before. I am in so much pain this week because I have had to move parts of my body that I have never moved before!
"We meet Graham Norton in the studio and he has been to see the house and he's lovely. What you see on the TV is what he is. That goes for all the presenters. Joe Mace and Zoe Ball are the same.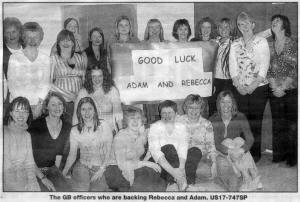 "I totally respect the judges because they know what they arc talking about and they are in the industry that I have always wanted to be in. Sometimes the way they say things are a bit harsh and it's a bit hard to take, especially on national television. But we were very pleased with the comments last week.
"What the judges say is very important but the last two weeks have shown it is the votes from the public that are so vital. The two couples who have gone out were in the middle of the ranking so although the judges have an influence it all comes down to the public.
"Adam and I get on really well. Despite what might be seen on the television I am not that bossy but when I am under pressure I am a perfectionist and if I have to be a dance teacher sometimes then that is what I will be.
"We live together and rehearse together so even if you have a tiff you have to work it out or it shows through on the Saturday night.
"We get our costumes fitted mid-week and they are a work in progress all week until the final result on Saturday. Everybody's costumes always look pretty great. We have to go with what the costume and make up ladies say because they are the best in the profession and know what they are doing.
"I want to thank everybody who has voted for us but there is a long way to go and I would love their continued support in the coming weeks."