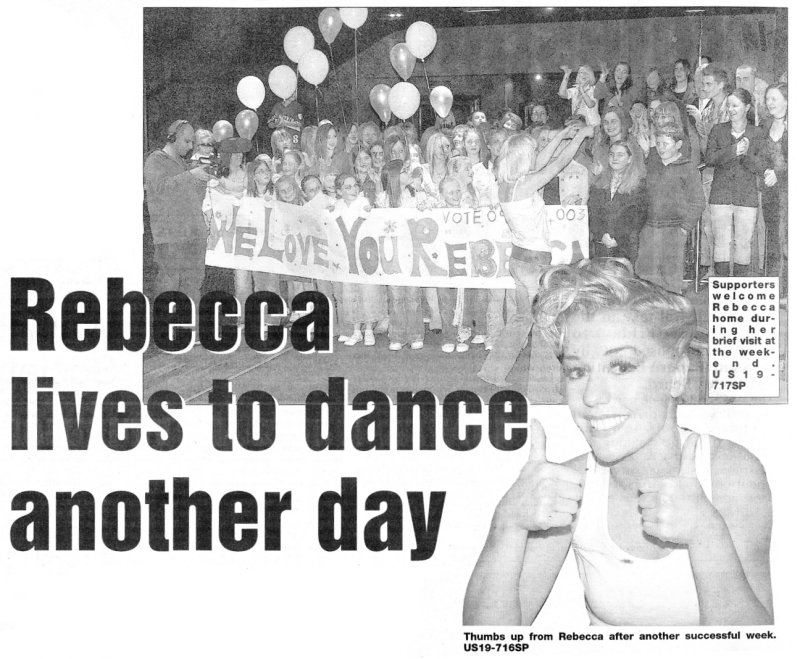 LISBURN'S dancing daughter, Rebecca Leonard, inched her way closer to the grand final of BBC's Strictly Dance Fever after a dramatic showdown last Saturday night.
Rebecca confessed to the Star last week that both she and partner Adam were struggling with their Foxtrot and they certainly didn't get the approval of the judges, with harsh criticism being levelled at the duo.
However, despite being placed in the bottom two by the judges, Rebecca and Adam clearly had the support of the public and lived to dance another day.
Fighting back the tears on Saturday's show, Rebecca was clearly more than relieved that her dream still lives on.
The Lisburn girl saw sonic more friendly faces this week when her grandmother flew over for the show's VE Day celebrations and her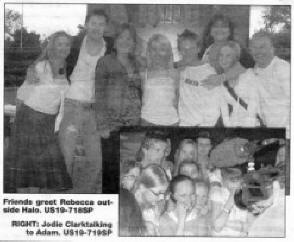 parents made the trip to London for the show itself.
Rebecca's mum, Irene, went to London last weekend together with Rebecca's dad to watch their daughter compete in what turned out to be a nail-biting live showdown. "Well, they survived another week," said Irene. "It was very stressful.
"As predicted the Foxtrot couples all received poor marks and comments. The judges as usual were very harsh.
"The good news was that Rebecca was allowed home with us on Sunday, joined also by a camera crew.
"They came to the house and interviewed us all there and followed Rebecca for a while.
"'This was all very last minute. As we were all in London, I had to leave any arrangements in the hands of Rebecca's sister, Paula.
"A surprise party was set up for all her family and friends, including Lisnagarvey Operatic Society, GB officers and her dance pupils.
"The owners of the Halo nightclub, part of the Down Royal, have been brilliant and kindly opened their doors for us to lay on this party. This is their way of supporting the local girl.
"The camera crew were there of course and a live link was set up between Adam back at the house and the Halo nightclub. "Some of the girls got to speak to Adam and ask questions. Jodie Clark asked: "Is Rebecca nice to you?"
Laura McCallum asked if Rebecca was heavy to lift, and Aaron Lyttle asked if Rebecca was bossy.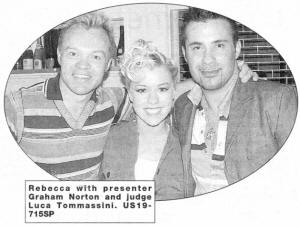 "Rebecca gave a quick lesson to the younger people on the Fosse routine. "It was a hectic afternoon. There was a really big turnout of people and we all had a great time, especially Rebecca.
"I had kept all the press coverage for her to see, and she did not realise the great support everyone has given her over the last four weeks.
"It was good for her to see that and it gave her a great boost.
"Rebecca slept in her own bed for the first time in four weeks but she was up on Monday morning at 4am and picked up by the camera crew at 4.45am to go to the airport and catch the first plane to London.
"She arrived back at the house shortly after 9am and her masterclass started at 9.30am.
"What a hectic weekend!
Very enjoyable none the less."
Speaking to the Star again this week, Rebecca admitted Saturday had been a difficult night.
"I can't even describe how awful Saturday was" she said. "I expected the foxtrot to be hard and we did expect to be near the bottom but the worst case scenario would be to have been bottom with Natasha and Paul, which is exactly what happened, because we knew they had great public support. But then so do we!
"I feel that we are most definitely the underdogs and the judges are going to try to get rid of us.
"The foxtrot and lambada weren't going to be our best dances but I think the judges have a thing about us being the wild card.
"It was really nice to be home at the weekend but it made me realise how much I really love it here and I was wondering what everyone was doing back at the house.
"My friends, my old ballet teacher, relatives, everybody I have been friends with over the last few years all came together to say how much they were supporting me.
"I flew back to London on Monday morning and they made an announcement about me on the plane so I'm hoping everyone who flew to London on Easyjet on Monday will be voting for me!
"Last week we had the VE Day celebrations. We danced for the veterans on HMS Belfast, which was really nice and felt really special because, even though it's just a namesake, it meant a lot because I'm from Northern Ireland.
"We also had a surprise VE Day visit from our grandparents. Everybody's grandparents, including my granny, came over and I really enjoyed hearing all of their stories.
"This week we are doing the Mambo. It's a Cuban dance and I am happy enough with it so far.
"This dance is a bit more straightforward than the foxtrot and the lambada. Every week we are just going to try our best
"I want to thank everyone for the support so far but now that we have past the half way mark and the countdown has begun we want to go the rest of the way.
'We definitely rely on the support of the public so keep on voting"

VOTE, VOTE, VOTE, VOTE
YOU can vote all week for Adam and Rebecca by calling 0901 1214003 or by texting `Vote 3' to 63633. Calls cost 25p with at least 12p going to Comic Relief and texts cost 25p plus standard message rate, l lp goes to Comic Relief.
Friends greet Rebecca outside Halo. US19-718SP RIGHT: Jodie Clark talking to Adam. US19-719SP