FROM LISBURN STAGE SHOW TO NATIONAL TELEVISION
RING IN FOR REBECCA
by JULIE SPENCE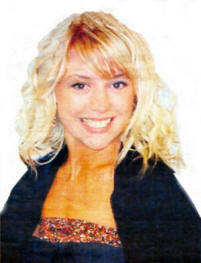 A LISBURN girl who was preparing to star in Lisnagarvey Operatic Society's production of Carousel this week is instead getting ready to make a bid for fame on national TV (writes JULIE-ANN SPENCE).
Rebecca Leonard thought she had missed out on her bid to get into the final of BBC's new television programme `Strictly Dance Fever' and had flown home to continue rehearsals as the lead dancer for the show in the Island Arts Centre.
However, in a dramatic twist she got a call last Tuesday telling her she and her partner had been given a second shot at impressing the judges and flew back to London to compete for the show's 'wild card' place.
Beating off stiff competition the dynamic dancing duo won over the hearts of the judges and the viewers with their classical dance to the beautiful Elton John song 'Can You Feel the Love Tonight' and have taken their place in the final ten, much to the delight of Rebecca's legion of family and friends at home in Lisburn.
Now Rebecca and 19-year-old Adam Spencer from Manchester have now been whisked away to a secret location in East London where they, together with the other nine couples, will live and rehearse before facing the public vote each Saturday night to secure their place for another week.
And they are depending on the support of local people to help keep their dream alive.
Rebecca, a former pupil of Wallace High School, started ballet when she was just eight years old and has always dreamt of being a dancer. Partnered in the show with Adam, the duo have had just a few weeks to hone their routines before taking to the stage in front of millions of viewers and the critical eye of dance judges ' Arlene Philips, Luca Tommassini and Stacey Haynes.
This week Rebecca and her partner will dance the 'Boogie Woogie' and have been trained by dance coaches Kevan Allen and Vanessa Leigh Hicks.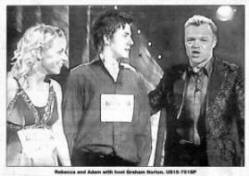 Rebecca is only allowed to make contact with her family for a few minutes each day but, speaking to her mother, Irene this week, she sent this message back to everyone in Lisburn: "We do feel under a lot of pressure because we got through as a wild card and we just hope we don't let our dance tutors down in any way.
"The house we are staying in is beautiful and the other contestants are great. I'm really enjoying myself."
Rebecca's mother, Irene, is understandably proud of her daughter and travelled to London for the first televised audition.
"Rebecca is fulfilling her dream and I am so proud of her. She has been partnered with Adam and they've only known each other for a lot of weeks. He is a lovely fella and they get on well.
"She got the call last Tuesday that she had been selected as a wild card and was told to pack for ten weeks but she was so sure that she was going to be back home on Saturday that she didn't pack very much."
Good luck wishes have already been sent to Rebecca as the people of Lisburn rally round to back their home grown talent.
Chairman of Linsagarvey Operatic Society, Roy Mcllwrath, together with the whole company, have sent their best wishes to one of their members.
Rebecca was due to take the Carousel role of lead dancer Louise Bigalow but her rise to fame has meant a last minute substitute has been called in to take her place.
"Rebecca was to perform a big ballet scene, the main dance feature in the show," explains Roy, "but we were aware that she was in the BBC show.
"Katy Chambers has literally stepped in at the last minute and has had three days to learn the part.
"Rebecca's mother came to apologise but there is nothing to apologise for. The whole company send a big round of applause and their best wishes. The whole society is delighted for her."
All of Rebecca's friends and family will be glued to the television at 5.55pm on Saturday and they are hoping that everyone in Lisburn will support the local girl, who is in with a chance of not only winning a huge cash prize of £50,000 but seeing her dancing dreams come true.
So pick up the phone and help Rebecca dance her way to the top!
Ulster Star
15/04/2005