Lisburn Historical Society
Volume 10 • 2005 - 2006
A BRIEF HISTORY OF LISBURN'S AIRBASES
ERNIE CROMIE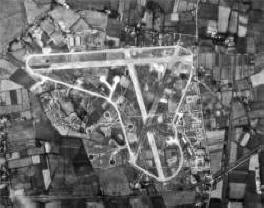 Official aerial photograph of Long Kesh airfield, 28 July 1942. Halftown Road is to the right of the airfield.
During the Second World War, Northern Ireland was one huge aircraft carrier, being the location for 25 military air bases. Collectively, they served a great variety of purposes and it was not unusual for an individual airfield to fulfil two or more different roles simultaneously. Some were bases for combatant operations by Coastal and Fighter Commands of the Royal Air Force (RAF) and squadrons of the Royal Navy (RN) (Fleet Air Arm). One measure of their worth is that aircraft operating from them shot down at least seven German planes and sank more than 25 U-boats. A few were associated with the construction, repair, modification or temporary storage of large numbers of aircraft. Others had indispensable roles for the training of aircrew in service with the RAF, RN and United States Army Air Forces (USAAF) which meant that thousands of airmen of various allied nations completed their training in Northern Ireland before joining operational units throughout the United Kingdom and farther afield.
A price inevitably had to be paid for so much aerial activity, the saddest aspect of which was the tragic deaths of hundreds of airmen and airwomen killed on active service here, victims of numerous flying accidents. Poignant reminders of this are to be found in cemeteries throughout the country in the neat rows of war graves which are readily distinguishable by the characteristically shaped Commonwealth War Graves Commission headstones such as those at Eglantine Church of Ireland cemetery, near Long Kesh.
In drawing up plans for airfield development in Northern Ireland following the outbreak of war, the Air Ministry planners were influenced by a number of considerations, one of which was the fear of a German invasion, either directly or via Great Britain or neutral Eire. Had it occurred, it would have been opposed by locally-based military forces including an air component. The airfield sites identified to accommodate the air component were Sydenham, Long Kesh, Maghaberry and Blaris and in June 1940, two of the relevant RAF squadrons, Nos 88 and 226 arrived at Sydenham, equipped with Fairey Battle light bombers. However, because Sydenham was already fulfilling several roles and considered to be a strategic target, Blaris was selected as an emergency dispersal site. A few large fields opposite Blaris Old Graveyard were rapidly brought into use as a grass airstrip by the simple expedient of removing some hedges with personnel being accommodated in tents and aircraft dispersed around the periphery. In due course, it came under the administrative control of RAF Long Kesh and was also used by the Air Training Corps for gliding instruction.
By comparison, construction of Long Kesh and Maghaberry proved much more troublesome, not least because of the very boggy nature of the Long Kesh site. Consequently, both airfields were not officially opened until November 1941. Contractor for the erection of buildings in both cases was H. & J. Martin while construction of runways was entrusted to the Royal Engineers at Long Kesh and in the case of Maghaberry, the firm of Sunley & Company. While they were being constructed, Nos 88 and 226 Squadrons were withdrawn to England to re-equip with Boston and Blenheim aircraft. In early October 1941 the latter squadron arrived with its Blenheims at an uncompleted Long Kesh and returned to England at the end of November, having spent the intervening period involved in Army co-operation exercises. Its place was taken by No 231 (Army Cooperation) Squadron which arrived from Newtownards with Lysander and Tomahawk aircraft. In January 1942 it was transferred to Maghaberry where it was based until its return to Long Kesh the following November. Its associations with Lisburn ceased for good in January 1943 when it went to RAF Nutts Corner.
Meanwhile, No 88 Squadron had arrived at Long Kesh in January 1942 for three weeks intensive training with its new Boston aircraft. Other Army Co-operation units that were based here for short periods during the first half of the year were No 1494 Target Towing Flight with Lysanders and `A Flight of No 651 (Air Observation Post) Squadron equipped with Taylorcraft (Auster) aircraft. At the end of January 1942, Fighter Command aircraft not normally employed in the Army co-operation role arrived in the shape of Spitfires of No 74 Squadron and remained until the end of March. As well as carrying out some exercises with British ground troops, they were fitted with long-range fuel tanks to enable them to spend long hours escorting ships bringing United States troops to the United Kingdom by sea, following the entry of the USA to the war.
The arrival of US troops at Belfast in January 1942 constituted one aspect of plans that had been drawn up for the involvement in the UK of various elements of the US Army, including the USAAF. Initially, it was envisaged that many USAAF units would be accommodated at numerous airfields here. For instance, Long Kesh and Maghaberry were identified for use by light bomber and observation squadrons and in September 1942 Long Kesh became the headquarters of 8th Air Force Composite Command, the organization with overall administrative responsibility for the USAAF presence in Northern Ireland. This was a temporary arrangement while more permanent accommodation was being prepared at Kircassock House demesne south of Moira, to which the Composite Command personnel were transferred in November. Subsequently, the initial plans for USAAF deployment in Northern Ireland were scaled down considerably and their implementation delayed. The result was that the Command's role became one of overseeing the final-phase combat training of aircrew from medium and heavy bomber squadrons of the 8th and 9th Air Forces, which did not commence until late summer 1943, at Toome, Cluntoe and Greencastle airfields respectively.
Meanwhile, it had become reasonably clear that the prospect of a German invasion was rapidly diminishing and new roles were being found for Long Kesh and Maghaberry. During the first half of 1942, the US Navy commenced a thrice-weekly service between Hendon and Eglinton airfields near London and Londonderry respectively, stopping at Long Kesh to off-load and collect passengers, light freight and mail, using Lockheed 12 and Dakota aircraft. Around the same time, Long Kesh and Nutts Corner airfields became the local termini of a towed glider service from Netheravon in Wiltshire, the aim being to give glider crews and troops of the British Airborne Division experience in long-distance navigation and to test airborne equipment. The aircraft generally used were Whitley or Stirling bombers towing Hotspur or Horsa gliders. On 26 August 1942, Long Kesh chalked up another novel achievement when the first Stirling bomber produced by the Short & Harland assembly plant, which had been established in twin hangars at the western end of the airfield some months previously, took off on a trial flight piloted by company test pilot H L `Pip' Piper. The second Stirling to be produced there was test flown on 10 October and others followed in due course. Subsequently, Stirlings were also test flown from Maghaberry where another assembly plant was constructed.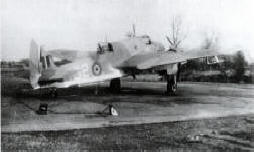 Beaufort aircraft at Long Kesh, one of many used by No. 5 OTU.
At the end of 1942, came a further role for both airfields when they were taken over by RAF Coastal Command's No 17 Group for use by No 5 (C) Operational Training Unit. Its function was to teach pilots and crews the techniques of maritime operations, initially using Beaufort aircraft based at Long Kesh and Hampdens based at Maghaberry. The Unit stopped using Maghaberry in August 1943 and Long Kesh in February 1944, by which time, in fact from October 1943, the Beauforts had been largely replaced by Hudson, Ventura and Oxford aircraft. This was a welcome development inasmuch as the Beaufort's flying characteristics posed considerable problems for inexperienced pilots and 56 of the aircraft were involved in serious incidents flying from Long Kesh during 1943. On 23 July, for instance, Beaufort JM45 I '18' flew into high ground to the west of Swatragh, County Londonderry, killing the three crew on board, all of whom were subsequently buried in Eglantine Church of Ireland cemetery. This particular aircraft is depicted in a Memorial Window in All Saints Parish Church, Eglantine, presented by members and friends of the Royal Observer Corps and dedicated `To the Glory of God and in memory of airmen of the Royal Air Force and Commonwealth Air Forces 193946 buried in the adjoining graveyard'.
The departure of No 5 (C) OTU narked a change in the complementary relationship that hitherto existed between Long Kesh and Maghaberry. From March 1944 until February 1945, Long Kesh was used by numerous squadrons of the Fleet Air Arm who were in residence for comparatively short periods on temporary absences from their parent aircraft carriers to enjoy a spell of rest or to exercise with ground forces and practice anti-shipping or bombing strikes using targets in the Lough Neagh and Strangford Lough areas. The best-remembered is No 882 Squadron which was equipped with Grumman Wildcat fighters. During the afternoon of Christmas Eve 1944, one of them, piloted by 19-year-old Sub Lt (A) Peter Lock, developed an engine fire when flying from Long Kesh to the bombing and gunnery ranges on Lough Neagh. With great presence of mind, Peter successfully ditched the Wildcat in Portmore Lough where it settled on the bed of that shallow lake and remained there until it was recovered by the Ulster Aviation Society in 1984. Currently, the Wildcat is being restored by the Society under the watchful eye of Peter who survived the ditching and has made several visits from his home in Canada since 1985 to review progress.
Only one other RAF flying unit was based at Long Kesh in 1944, No 290 Squadron which arrived in March. Its role was to facilitate the training of anti-aircraft gunners and there were heavy demands for its services from the RAF Regiment, Army, Royal Navy and the USAAF gunnery school near Kilkeel, especially in the run-up to D-Day. It was transferred to Scotland in February 1945, following which
Long Kesh entered a period of comparative inactivity punctuated by occasional arrivals and departures of aircraft diverted from other destinations or carrying VIPs. The episode which attracted most attention was the arrival from Hendon on 17 July 1945 of three Dakotas bearing Their Majesties the King and Queen, HRH Princess Elizabeth, their entourage and accompanying press corps, for the first Royal Visit to Northern Ireland by air. Other distinguished visitors included General Eisenhower and Field Marshal Montgomery, in August and September 1945, respectively. September 1945 also saw the arrival of the last RAF flying unit to be based at Long Kesh, the Communications Flight of Headquarters RAF Northern Ireland. It was transferred to Sydenham at the beginning of December and the airfield closed soon afterwards, in 1946.
Meanwhile, Maghaberry had been far from idle. The RAF's No 306 Ferry Training Unit arrived in June 1943 and stayed for two months prior to spending an equivalent period at Long Kesh. This provided a foretaste of what became, arguably, the most colourful period of activity in Maghaberry's history which began on 15 November 1943 when the airfield was handed over to the USAAF to become AAF Station 239. Its role was to facilitate the delivery of huge numbers of aircraft to and from numerous airfields in Great Britain and Northern Ireland that were handed over to or used by the Americans. By then, for example, growing numbers of new aircraft were arriving from the USA at the transatlantic ferry terminal at Nutts Corner, for onward delivery to air depots throughout the UK, including Langford Lodge. Accordingly, four ferrying squadrons of the USAAF were formed at Maghaberry, all of them controlled by the 27th Transport Group of the 8th Air Force, based at Grove in Berkshire. In addition, because of its proximity to the 79th Station Hospital at Waringfield, Moira, Maghaberry was also used by casualty evacuation transports of the 9th Air Force Troop Carrier Command based in
England. As a consequence of all this activity, the airfield became an aircraft spotter's paradise with sightings of Liberator, Flying Fortress, Marauder, Hudson, Dakota, Airacobra, Thunderbolt, Lightning, Mustang, Oxford and Master aircraft being virtually a daily occurrence.
However, this period of intense activity was comparatively short-lived for on D-Day, 6 June 1944 Maghaberry was officially handed back to the RAF. It was the final act in a process which had commenced in May, of transferring the ferrying squadrons to the 8th Air Force Base Air Depot at Langford Lodge. Within a matter of clays, Maghaberry's runways were appropriately marked to indicate they were available for emergency landings only, although the test flying of Stirling bombers was permitted to continue on an intermittent basis. The last chapter in Maghaberry's wartime history commenced in December 1944 when it was designated No 101 Satellite landing Ground and was placed under the control of No 23 Maintenance Unit at Aldergrove for the purpose of storing hundreds of redundant aircraft awaiting being scrapped. This sad process was completed by the end of 1947.


The fourth of Lisburn's air bases, Sandy Bay on Lough Neagh, was a modest facility yet has a remarkable and little known history. It consisted of moorings established in the sheltered waters between Ram's Island and the nearby shore plus two piers and a number of nissen huts to accommodate equipment and service personnel. It had two roles. The initial one was to facilitate RAF flying boats while they were using the extensive bombing and gunnery ranges that existed on the lough during the war. The second materialised on 18 May 1944 when a 4-engined Coronado flying boat of the US Naval Air Transport Service arrived from New York to inaugurate a regular daily passenger carrying and freight service between the USA and Northern Ireland via Port Lyautey in North Africa. Coronados were large, about the size of Sunderlands, and the service was well used, 280 passenger arrivals being recorded in June. Things were especially busy in the immediate run-up to D-Day, 10 Coronados having arrived on 23 May alone. This particular role came to an end on 16 October 1944 when the last Coronado flew out, never to return.
Their military roles during World War II finished, the history of Lisburn's airfields is one of diminishing usefulness for heavier-than-air flying. For a few years, Short & Harland continued to make use of Maghaberry in connection with their aircraft business while Long Kesh was briefly used by Miles Aircraft (NI) Ltd for the assembly of Messenger aircraft fabricated in Banbridge, pending completion of a new factory for the company at Newtownards. Under the auspices of the Ulster and Shorts Gliding Clubs, gliding was an occasional feature of post-war activities at both airfields but the creation, in 1971, of what eventually became HMP Maze at Long Kesh eventually put paid to that. Ironically though, it was `The Troubles' which were responsible for the most recent phase of Long Kesh's aviation history, insofar as the south east corner of the site functioned as an Army Air Corps base from which Sioux, Scout and eventually Gazelle helicopter types operated in support of the security forces. Currently, plans for the redevelopment of the site are under consideration by the Maze Regeneration Initiative in consultation with interested organisations. Who knows what the future will bring?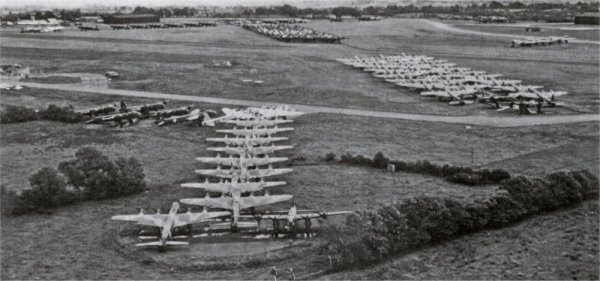 New unused Stirling bombers and other aircraft waiting to be scrapped at RAF Maghaberry, June 1947.
Photographs: courtesy of the Ulster Aviation Society.