Lisburn Historical Society
Volume 10 • 2005 - 2006
Recollections of the Second World War in Lisburn
TREVOR NEILL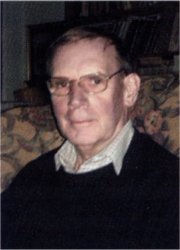 Trevor Neill, founder member of Lisburn Historical Society
Although the outbreak of the Second World War in September 1939 was not unexpected in general the country was not prepared. Many people still had vivid memories of living through the First World War which had ended twenty-one years previously and initially they based their views on the likely progress of the War on those memories.
Nor were the effects in Lisburn and district immediately obvious though the few who were members of the Territorial Army, Royal Air Force Volunteer Reserve and the Royal Navy Volunteer Reserve were immediately called up as also were those of suitable age who had previously served in the armed forces. Unlike the rest of the United Kingdom, there was no conscription, yet a considerable number enlisted in the armed forces. Gradually families became accustomed to their men folk carrying out wartime tasks at home.
With security issues to the fore, one of the first noticeable changes was that control barriers were put on the roads leading into the town. These took the form of baffled concrete pillars with used railway lines between them with concrete shelters where armed soldiers mounted guard. Everyone was issued with identity cards, ration books and gas masks. The 'black out came into being which meant that there was no public lighting in buildings — all windows had to be effectively sealed so that no light at night could escape as one light into the darkness would be like a lighthouse to attract the enemy planes. Travel was limited and within a short time only those whose business necessitated travel were allowed petrol for their cars.
All new building and property development became subject to the 'war effort'. Air raid shelters were rapidly built in roads, streets and public areas. A morgue was built at Smithfield in the area now occupied by Lisburn Square as it was anticipated that there would be German air raids in which bombs would be dropped leading to a large number of civilian casualties. A considerable number of properties were requisitioned in the town and surrounding countryside. In the Maze and Maghaberry areas considerable blocks of farmland were requisitioned for the building of Long Kesh and Maghaberry airfields. After the war the airfields did not return to farms and in the 1970s part of this land was re-used for prison sites.
On the shores of Lough Neagh at Sandy Bay, near Glenavy there was a seaplane base which eventually was jointly uses by the Royal Air Force and the American Air Force. Sixty years on, there are still buildings remaining from this time and the jetty is used by the sand extraction company which takes sand from Lough Neagh. An Air Sea Rescue launch service, which was essentially a Royal Air Force Marine Craft Unit, was based on the Six Mile Water where it flows into Lough Neagh. It assisted in the servicing of the target systems on the Lough and the flying boats at Sandy Bay and in aiding any planes which crash-landed into the Lough en route to the many nearby airfields around Lough Neagh.
The road from Moira through Upper Ballinderry and Glenavy now known as the Airport Road uses the old runway of Nutts Corner airfield on its final section to the roundabout at Nutts Corner. Also the market at Nutts Corner uses part of the old Airfield. Just behind Colin and Aughrim hills on the north side of Lisburn a dummy 'airfield', consisting of a number of small fields with a few small buildings, was sited to the east of Stoneyford Reservoir. Its purpose was to activate a night time ground system of moving lights whenever the presence of enemy aircraft was detected and thus to distract possible air raids on Aldergrove and Nutts Corner Airfields. In the same area there was a large ammunition store. Much closer to Lisburn town centre, a similar decoy anti-aircraft battery was set up at Hillhall in the area where the Primary School is now.


In Lisburn town, the army took over large houses and estates. Friends' School was temporarily evacuated and the army took over the school as a military hospital, although I am told that they did not have many patients. The Temperance Institute, now the Bridge Community Centre at the corner of Railway Street and Magheralave Road was a welcome haven for servicemen as it was utilised as a NAFFI canteen. In Antrim Street where the record shop and other shops are now, was Ashes Garages, which was taken over by the army as a garage. Forthill House and grounds where Forthill High School and Primary School are now was an army camp. One of the first regiments based there was the Royal Welch Fusiliers and one of the last was a regiment of the Belgian Army. I recollect their departure from Lisburn Railway Station when a considerable number of local girls had a tearful parting. At that time there were a number o: local men who had served in the First World War in north eastern France and continuing into Belgium — they acted as interpreters in many wartime introductions. Billy Reid of Millbrook worked with horses during that war and foi the rest of his life was in the same capacity with Robert Stewart & Son and was well known for his part in 'helping these wartime romances.
In Clonevin Park on the right hand side going from Antrim Road was a field, part of which is now Sepon Park and houses on Clonevin Park. This field was a brick store which was greatly needed as bricks were used for air raid shelters and other buildings. There was a Fire Station at No 14 Clonevin Park with a large garage for fire engines in the rear garden. On the opposite side of the road the branches of the lime trees were used to hang the hosepipes to dry! Lisburn fire engines and crew assisted at the Belfast Blitz in 1941, as did the Fire Services from Dublin and Cork.
The American troops began to be stationed here early in 1942. At Ballydrain (now Malone Golf Club) there was a centre for interpreting aerial reconnaissance. On the other side of Upper Malone Road, Wilmont Estate (now Lady Dixon Park) was also requisitioned and served as a centre for the United States Army in the area while Bog Road at Seymour Hill — where the School is today — was another American camp for black soldiers. At that time segregation was still part of American life. I recall the time when the American vehicles travelled continuously up the Antrim Road for nearly two days to the special camp that had been built for them at Langford Lodge on the shores of Lough Neagh, near Crumlin.
On the Old Hillsborough Road are two hangars which arc now food distribution stores. The aircraft production firm. Shorts, used these buildings as part of their aircraft production. When the Germans bombed Belfast during Easter 1941, their main target was the docks and particularly the great shipbuilding yards of Harland and Wolff. Due to the smoke screen that was put up, the north of the city suffered considerably instead. However, Short's electrical workshops were devastated and these workshops were re established at Glenmore bleachworks, part of which now remains as Glenmore Activity Centre. Close by, at River Road, Lambeg, was the linen factory and Short's moved department here after bombing damaged part of their premises at Belfast harbour.
At Broomhedge, on the railway line line between Belfast and Portadown, there was a railway siding which original') was used to bring horses to the Racecourse. During th( War a hospital train was kept at the siding. At Knockmore the buildings used by Gamble Simms which are now divided into smaller units and adjacent to Bibby's meal factory were REME workshops, and this complex between the Moira Road and the railway line had a branch line running into it. Just along the road from Knockmore to Lisburn at the entrance to Old Warren Estate was searchlight battery.
Looking back, there were many people who contribute( on the home front by their involvement in the many service: providing training in air raid precautions. Lisburn had an efficient ARP under the command of Mr Harold Woods will Mr McDonald and Mr Fred Kee, both employed by Lisburn Council, playing a very active part. Market Square was the focal point for fund raising weeks such as `Wings for Victory' and `Salute the Soldier'. There was always a military band — on one such occasion an American Army Band played with great verve and then, at the conclusion, placed their instruments on the ground with care and then rushed to Mercer's pub nearby.
In conclusion, I feel we should not forget the many servicemen from abroad who died here for the greater good. They are typified by those airmen - among them young men from far away Australia, New Zealand and Canada - who flew out of Long Kesh airfield on active service and who are buried in the graveyard of Eglantine Parish Church, near Sprucefield.
In these recollections, I am sure I have missed things, but I hope not too many. Lisburn and its people played an active part both at home and abroad.