Lisburn Historical Society
Volume 10 • 2005 - 2006
THE END OF AN ERA - BARBOUR'S OF HILDEN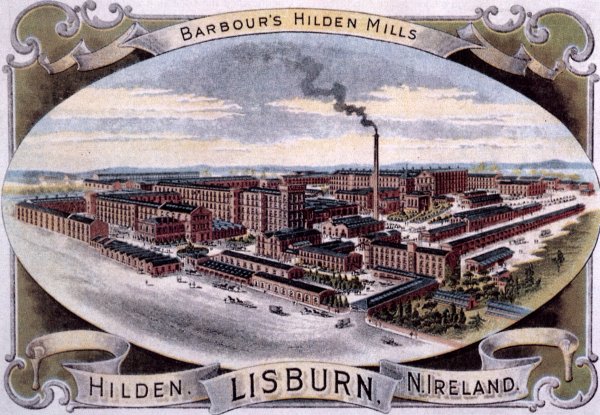 A 1920s postcard view reproduced courtesy of the Irish Linen Centre & Lisburn Museum
In February 2006, Coats Barbour announced the company's intention of closing Hilden Mill. This represents the end of the era of Lisburn's long and celebrated association with linen manufacture. The firm was founded in 1784 by John Barbour from Paisley, Scotland and has had the distinction of being one of the longest-lived in the textile business in the British Isles. John's son, William, set up the premises at Hilden in 1823 and employed about 300 workers in spinning, dyeing and bleaching linen thread.
William Barbour & Sons Ltd became a very successful business. By the end of the 19th century it had opened factories in the USA and in Germany and bought up rival companies in Scotland and Ireland. In 1898 it became The Linen Thread Company Ltd and was the largest producer of linen thread in the world. On the eve of the First World War, about 2000 employees worked at Hilden and the Company built and maintained houses, a school and a community hall for its workers.
During the 20th century linen faced competition from other fibres. Synthetic thread has now largely replaced linen thread in industrial production and domestic use. In 1999 Barbour's merged with the firm of J & P Coats, another long established manufacturer of industrial threads. The speciality thread production for the automotive and upholstery industries at Hilden Mill is to be relocated overseas.
Throughout the years the Company accumulated a large quantity of artefacts and records. These have been donated to the Irish Linen Centre & Lisburn Museum and to PRONI, where they can be seen by the public. They illustrate the significance of the Company both to the local community and also as an international producer with world-wide sales.