Lisburn Historical Society
Volume 10 • 2005 - 2006
THE SIR RICHARD WALLACE TRUST (LISBURN)
ANTHEA McWILLIAMS
Excerpt from:
National Gallery of Ireland Archive Minute book p.336
Thursday 6th November 1879 3.30pm
The Director brought under the notice of the Board the letter from Sir Richard Wallace offering for presentation to the gallery the picture by Daniel Maclise RA of `The Marriage of Strongbow', which reads as follows:
Hertford House
Manchester Square
21st July 1879
My dear Mr Doyle
It has long been my wish to become the purchaser of Daniel Maclise's picture `The Marriage of Strongbow' both with a view of presenting it to the National Gallery of Ireland as I always felt that this masterly painting of our great Irish artist ought to find a permanent home on Irish soil.
I am sure you will be glad to hear that I have now been able to realise my idea and the picture is mine until is accepted, as I hope it will be, by the Directors of the National Gallery of Ireland.
Believe me
Yours very truly
Richard Wallace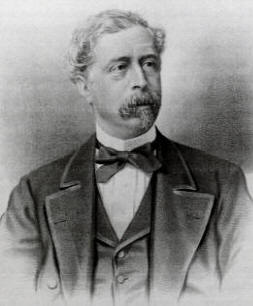 Sir Richard Wallace (1818-90) whose widow bequeathed The Wallace Collection to the nation in 1897.
As a result of this `munificent and most appropriate gift' being accepted by the Board of Directors and with a `unanimous resolution of the warmest thanks', this painting, one of two Sir Richard was to donate, was eventually catalogued in 1890 and exhibited in the National Gallery of Ireland in Dublin where it still hangs today for all to see in the great hall.
1890 was also the year that Sir Richard Wallace died, alone at his Paris residence in Bagatelle, Bois de Bologne. One wonders if throughout his life, which was filled with philanthropic acts, did he derive some satisfaction with regard to the `Irish soil' to which he referred in his letter some eleven years earlier. There is no shadow of a doubt that the Irish land that he inherited from his father, the 4th Marquis of Hertford, formed a considerable part of his fortune - since the rental income from the South Antrim estate alone amounted to £60,000 annually, then perhaps it is no wonder he could buy art on the scale and manner that he chose to and act as philanthropically as he did.
Closer to home in Lisburn, a few remnants of his good deeds and legacy remain, although nothing like the painting of `The Marriage of Strongbow'. Hopefully we will learn more, through future research, of the cultural and historical legacy left by Sir Richard Wallace in Lisburn.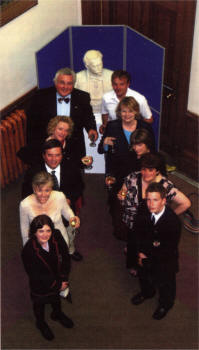 Trustees and supporters of The Richard Wallace Trust: l-r. Caroline Hynds (Wallace High School); Josephine Kelly; Brian Walker; Anthea McWilliams; Alister McReynolds; James Scott; Julie Dumigan; Amanda Croft; Janice Law; David Lorimer(Wallace High School), at the launch of the Trust in June 2005.
Wallace's connection with Lisburn was brief but considerable. Among his many acts and good deeds, most notably, he built Castle House in Castle Street (now a listed building and part of Lisburn Institute), acted as MP for the area, donated land for a school to be built (now called The Wallace High School), gave the people a park (now Wallace Park) and donated five drinking fountains (of which two remain). That said, relatively few people in Lisburn know the full story of Sir Richard Wallace or anything about his influence, wealth or patronage, let alone that the Wallace Collection in London exists or about the historical ties that link the famous art collection with Lisburn and for what reason.
Although an exhibition at Lisburn Museum in 1990, the centenary of his death, marked his contribution and patronage to the area, there remains no permanent display in Lisburn to Sir Richard Wallace and his magnificence. In 2005 an independent charity was established to address this particular aspect of Lisburn's cultural heritage. Entitled The Richard Wallace Trust (Lisburn), the organisation was officially launched in June 2005 with a celebrated event at Castle House where, to a capacity gathering, Mr Jerem Warren (Head of Collections) from The Wallace Collection gave the keynote address. As Chair of the Trust, Ms Anthea McWilliams (former pupil, The Wallace High School) introduced the Trustees, namely: Mr Alister McReynolds (Lisburn Institute); Mrs Josephine Kelly (Lisburn Institute); Mrs Julie Dumigan (The Wallace High School); Dr Brian Walker, Amanda Croft (Queens University) and James Scott (former pupil, The Wallace High School). In 'proving, promoting and protecting the cultural and historical legacy of Sir Richard Wallace', the aims of the Trustees are to create a greater awareness of his legacy through educational activities, cultural events and building relations with The Wallace Collection and other associated organisations and people.
Links are being formed between the Trust in Lisburn and The Wallace Collection in London as well as contacts in Paris where Sir Richard Wallace grew up. Avenues of communication that once lay dormant between numbers of key stakeholders are now actively being re-opened. The Trust is excited about the future in that respect and work has commenced to promote the cultural and historical legacy of Sir Richard Wallace for future generations.
All support for the work of The Richard Wallace Trust (Lisburn) is gratefully received and the Trustees wish to acknowledge the generous donation towards the launch event in June 2005 made by Mrs. Norah Boyle in memory of her late brother Mr. Harry Duff, former Lisburn Town Clerk.
Contact details:
Ms Anthea McWilliams
Art Act Gallery
32 Castle Street
Lisburn
BT27 4XE
Tel: 028 9266 3179
E: ArtActLisburn@aol.com
E: Rwallacetrust@aol.com

Mr Mister McReynolds
Company Secretary
The Richard Wallace Trust (Lisburn) Lisburn Institute
39 Castle Street
Lisburn
BT27 4SU
Tel: 028 9262 6753