The Lady
Lady Elizabeth smiled contentedly in her carriage as she travelled along the Lagan Valley to Hillsborough. She was slowly becoming familiar with the flat countryside around her and was very content with her situation in life. She had recently left behind one the grandest aristocratic homes in England to marry the extremely wealthy Lord Rawdon and set up home in Ireland. Here she had the resources and the opportunity to make an impact on society.
She was happy for another reason; she was away from her mother's influence. The Countess of Huntingdon, a very notable Lady in English high society, had royal blood in her veins. However the Countess had caused a great stir in English society by becoming an evangelical Christian and befriending a host of preachers, most notably John Wesley and George Whitefield. Elizabeth had grown up knowing these men personally and often listened to them and to other famous preachers who were invited to preach in her home.
Elizabeth confessed to her brother that she had married Sir John Rawdon to get away from home and escape her mother's religious influence. She said "my situation in Ireland is happy – extremely so, in separating us so far asunder."
Elizabeth refused all contact with her mother, though one of her mother's preaching friends kept calling when he was passing through Ireland. John Wesley received a welcome from Lady Elizabeth's husband each time he came and he was obviously greatly impressed with Elizabeth's exquisite taste. He wrote of that home as "the best finished of any I have seen in Ireland."
Lady Elizabeth was a very able and decisive lady and used her position of authority to benefit others, even her tenants. During a revolt by farm tenants caused by high rent levels, evictions
and local taxation, the village of Moira was under threat. The warning, later believed by Elizabeth to be malicious, was that the Hearts of Flint had "vowed to hang every Moira person at their own door" unless they joined the protest. Lady Rawdon was in residence and she wrote in haste to ask for soldiers to come to their aid. Her concern was not that her village people might attack her, for she said she was "perfectly persuaded the infatuated people who surround me are incapable of doing me an injury." She wanted military support to prevent intimidation of her villagers.
In later years in Dublin, Elizabeth was known for her great hospitality. Her home was constantly used to entertain; she was the leading Dublin Whig hostess. It was said that "Lord Moira had certainly one advantage above most men, for he had every assistance that true magnificence, the nobleness of manners peculiar to exalted birth, and talents for society the most cultivated could give him, in his illustrious Countess."
Elizabeth had many abilities; she managed her family properties but also managed the estate belonging to friends who were abroad for a number of years. She even had time to manage an election campaign. When she died in 1808, her obituary said her home was "the favourite seat of taste and splendour," and describes her as "a most liberal patroness… her great income was spent in acts of charity and unbounded liberality … . Her Ladyship's death is an irreparable loss to the poor of Dublin, as well as those who daily participated of her splendid board." She died at seventy-eight years of age, having achieved more than most women in Ireland but did she die happy?


John Wesley seems sure that earlier in life Elizabeth had professed faith in Christ. He wrote a letter to her on March 18, 1760, some of which follows.
My Lady, it was impossible to see the distress into which your Ladyship was thrown by the late unhappy affair without bearing a part of it, without sympathizing with you. But may we not see God therein? (Wesley was referring to a tragic event in the family circle.)
He speaks sometimes in the whirlwind. Permit me to speak to your Ladyship with all freedom; not as to a person of quality, but as to a creature whom the Almighty made for Himself.
You were not only a nominal but a real Christian. You tasted of the powers of the world to come. You knew God the Father had accepted you through His eternal Son, and God the Spirit bore witness with your spirit that you were a child of God.
But you fell among thieves… They by little and little sapped the foundation of your faith.
Where are you now? Full of faith?… Is it now not high time that you should awake out of sleep?
Now God calls aloud! My dear Lady, now hear the voice of the Son of God, and live!
I am, my Lady,
Yours,
John Wesley.
Two months after writing that letter, John Wesley visited Moira twice in the space of a few days to see Lady Elizabeth and to preach. Nowhere does he record Elizabeth's reaction to his
letter; only God knows the secrets of the heart.
He knows the secrets of your heart and mine right now. Nothing is hidden from Him.
Examine yourselves to see if your faith is genuine. Test yourselves. Surely you know that Jesus Christ is among you; if not, you have failed the test of genuine faith.
2 Corinthians 13:5. (NLT)
Not everyone who says to me, 'Lord, Lord,' will enter the kingdom of heaven, but only he who does the will of my Father who is in heaven.
Matthew 7:21.
Let the wicked forsake his way, and the unrighteous man his thoughts; let him return to the Lord, that he may have compassion on him, and to our God, for he will abundantly pardon.
Isaiah 55:7. (ESV)

As the horse ambled steadily along the Lagan valley, the small man in the saddle spent most of his time reading. It was a pleasant July day in 1756; gone were the thunderstorms that drenched him the previous day between Newry and Lisburn. Occasionally he lifted his eyes and admired the surrounding countryside. It was different from much of what he had seen across Ireland and reminded him of his homeland; "much like Berkshire," he said. He noted the fruitful vales on each side of the road and the well-wooded hills. This was his first visit to Ulster and the horseman was impressed.
He was a travelling preacher; his name was Rev. John Wesley. His destination was Lurgan but he planned to stop in Moira, for he knew the Lady in the Castle. Wesley had been very friendly with her mother, the Countess of Huntingdon and had often met Elizabeth in her home in England, before she had married Sir John Rawdon four years earlier. Now would be an opportunity to meet her again and see her little eighteen month-old son Francis for the first time.
Elizabeth's husband gave the visitor a very warm welcome and prevailed upon him to preach to his tenants. Wesley agreed and Sir John, who was the Churchwarden, sent a servant to the clergyman to request the key of the Church, so that the visitor might preach to the people. Despite Sir John's stature in the church and society, the clergyman declined, saying he would never tolerate Methodists.
Sir John was greatly annoyed by the Rector's refusal but was determined that nothing should prevent Mr. Wesley from preaching. He sent the bellman through the town to summon all the people to the lawn in front of the Castle. There Mr. Wesley stood on the top of a long flight of steps before the grand entrance hall and preached to the people.
Four years after Wesley's first visit, he returned. This time he came to visit the residents of Moira House and to seek to get an opportunity to speak to Elizabeth. She was in considerable distress since her cousin Earl Ferrers had murdered his land steward just a few months earlier. Wesley had written her a letter a few weeks previously.
The date was Thursday 1st May 1760. Wesley once again took the opportunity to preach once more, as well as spend time with Lady Elizabeth. "I rode to Moira. Soon after twelve, standing
on a tombstone near the Church, I called a considerable number of people to know God and Jesus Christ whom He had sent."
Just over one week later, on Monday, 12th May, he determined to return to Moira. It was unusual for Wesley to return to a small village on such a preaching tour, for he liked to preach in the larger communities where he could reach more people with the Good News of Jesus Christ. That Monday morning he had preached in the Market House in Ballymena to a large number of people and recorded, "God was there of a truth. I found no such spirit in any congregation since I left Dublin."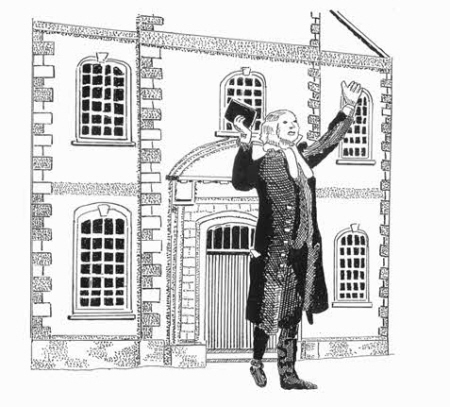 Rev John Wesley preaching at Moira in May 1760
Perhaps Wesley knew that Ferrers had been hanged the previous Monday and so determined to return to Lady Elizabeth. It was afternoon when he rode into Moira. Almost certainly he went to the Castle and then once more preached outside St. John's Church. This time he wrote down what he thought of the reception he received from his hearers in Moira. "I preached to a very civil congregation but there is no life in them." These were to be Wesley's last words about the people of Moira - but not his last thoughts. Sir John and Lady Rawdon were very much upon his heart.
Wesley, who was now fifty seven years old, was still remarkably active. The next day he rode to Cootehill in Cavan. He says, "My horse was thoroughly tired. However with much difficulty, partly riding, and partly walking, about eight in the evening I reached Coot-hill." No mention was made of how tired the preacher was! He preached when he arrived and the next morning, at five o'clock and again at eleven o'clock, in the Market house. Then with a fresh horse he rode to Belturbet! By the end of the week he was in Sligo. There he sat down to write to Sir John and to share his thoughts and concerns. He spoke of the spiritual conversations he had with Lady Rawdon the week before.
"My Lord, I have taken the liberty to speak to Lady Rawdon all that was in my heart, and doubt not that your Lordship will second it on every proper occasion. The late awful providence I trust will not pass over without a suitable improvement. God has spoken aloud, and happy are they that hear and understand His voice."


Wesley was convinced that Elizabeth once believed on Jesus Christ but he had great concerns now for her spiritual condition. His words in the letter to her a few weeks earlier included this challenge:
"Did not your love of God grow cold? Did not your love of the world revive? … . Where are you now? Full of faith? Looking into the holiest, and seeing Him that is invisible? Does your heart now glow with love to Him who is daily pouring His benefits upon you? … .. Are not you a lover of pleasure more than a lover of God?... And oh what pleasure! What is the pleasure of visiting? Of modern conversation? Is there any more reason than religion in it? I wonder what rational appetite does it gratify?"
Wesley was desperately concerned that Lady Rawdon's love of pleasures and social standing were taking her away from God.
But he also had some concerns to share with Sir John himself. The letter continues:
"In one respect I have been under some apprehension on your Lordship's account also. I have been afraid lest you should exchange the simplicity of the gospel for a philosophical religion. O my Lord, why should we go one step farther than this, 'We love Him because He first loved us'?
I am Your Lordship's most obedient servant."
Wesley returned to the Moira area on several occasions during the following years, no doubt to continue to urge those in the Castle to seek after God. He passed this way in June 1762 and June 1773 en-route between Lisburn and Lurgan. By then Sir John had become the Earl of Moira. On 6th July 1771 he "spent two hours very agreeably in Mayra" on his journey between Ballinderry and Newry. But there is no record of his ever again preaching in Moira and no account of spiritual conversations or letters between him and the Earl and Countess. Surely he continued to care for their souls and pray for them. It seems he was still accepted by them, for Wesley was a welcome visitor in later years at their exceedingly grand home in Dublin.
The man who preached to tens of thousands all over the world, still had a love for the souls of individuals and passionately desired to see them saved. That is the desire behind this booklet: that you might know Jesus Christ as your Lord and Saviour. The Apostle Paul had a great passion for his people and wrote:
Brothers, my heart's desire and prayer to God for the Israelites is that they may be saved.
The word of faith we are proclaiming: If you confess with your mouth, "Jesus is Lord," and believe in your heart that God raised him from the dead, you will be saved. For it is with your heart that you believe and are justified, and it is with your mouth that you confess and are saved.
As the Scripture says, "Anyone who trusts in him will never be put to shame." For there is no difference between Jew and Gentile - the same Lord is Lord of all and richly blesses all who call on him, for, "Everyone who calls on the name of the Lord will be saved." Romans 10:1,8-10,13.