St. Patrick's Church Lisburn Telephone: 59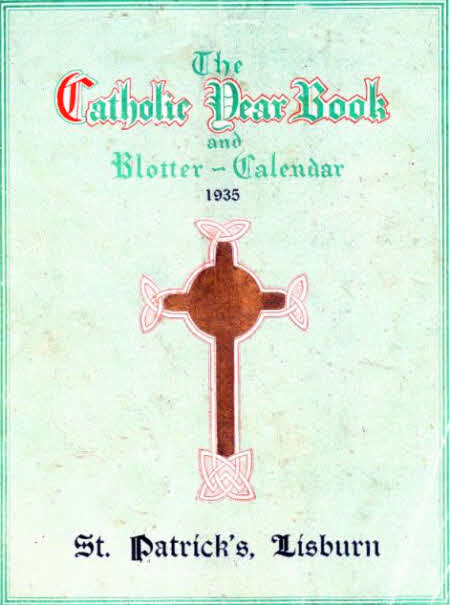 The Catholic Year book and Blotter - Calendar 1935
---
Clergy
Very Rev- JAMES CANON O'BOYLE, P.P., V.F., B-A.
Rev. JAMES SMYTH, B.A., C.C.
Rev. J. IVORY, B.A., C-C.
Rev. F. CONALTY, C.C.
Sundays — Masses at 8-30 and 11 a.m. Evening Devotions at 6-30 p.m. Sunday School before 11 a.m. Mass. Fees for admission to the Masses, Twopence ; Evening Devotions, One Penny ; Children and Poor People admitted Free.
Weekdays — Masses at 8 and 9 a.m. Stations of the Cross and Benediction of the Blessed Sacrament every Friday evening at 7-30. Devotions during Lent and the months of M2, and October on Wednesday and Friday evenings at 7-30 o'clock.
Holy Days — Masses at 6-30 and 9 a.m. Evening Devotions at 7-30.
Confessions — On Fridays and the Eves of Holy Days at 7 p.m. ; on Saturday evenings at 6-30 p.m. ; on the Eves of First Fridays at 5 p.m. Servants unable to attend the ordinary Station will be heard in the Sacristy before 8-30 Mass on Sundays and 9 a.m. Mass on Holy Days.
Baptisms and Churchings — On Monday, Wednesday, and Friday mornings at 9-30 a.m.
Marriages — Those about to be married should notify their intention to the Parish Priest at least one week previous to the date of their
marriage.''
Sick Calls — Sick Calls are to be given in before 11 a.m. at the Parochial House. Urgent Calls will be attended to at any hour.
The Parish Library in St. Joseph's Hall is opened every Sunday after 11 o'clock Mass.
Funerals — Funerals are not to start later than 2 o'clock p.m. The day and hour of the Funeral are first to be arranged with the Priest of the district before any other arrangements are made.
Confraternities — Confraternities and Sodalities meet as arranged by their Spiritual Directors. Sacred Heart Society meets on First Sunday of each month at 6-30 p.m. Holy Hour meets on Second Sunday of each month at 6-30 p.m. Temperance Sodality meets on Third Sunday of each month ac 6-30 p.m.
COUNTRY CHURCH OF THE PARISH OF LISBURN
Reilly's Trench, Hillsborough-
Mass—Every alternate Sunday at 9-30 and 11 a.m. Holy Days, 9 a.m. Benediction on Third Sunday of the month, after Mass. - Confessions and Communion each Nine Friday at 9-30 a.m.
MAGHERAMESK CHURCH AND MAGHERAGALL CHURCH.
Services the same as in Reilly's Trench.
PURDYSBURN ASYLUM.
Mass each Sunday and Holy Day at 9-30 a.m.