A Garland of Short Meditations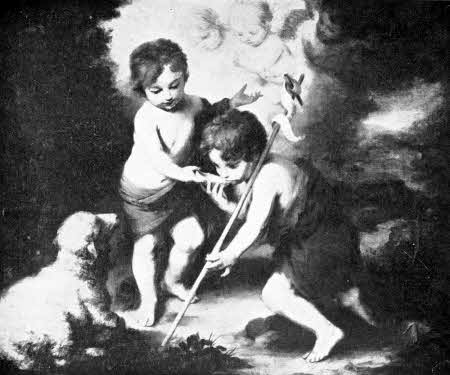 " The Child Jesus and St John." - By Murillo.
[Photo Anderson]
WHAT is the use of all these groundless excuses ? Let those who Communicate but seldom declare the truth by honestly acknowledging that the reason why they do not go more frequently to Holy Communion is because they do not want to put themselves under the obligation of living a life of more thorough detachment from creatures and from the pleasures of the world.—St. Alphonsus Liguori.
* * * *
I was told that if I became a Catholic my mind would be fettered, my reason stifled ; I should no longer be able to think for myself. I have found on the contrary that the Catholic Church places me on a platform of truth from which even a poor mind like mine can rise to fathomless heights. I have found the truth that sets men free.
Rev. Owen Francis Dudley.
* * * *
I have never seen a compassionate and charitable man die a bad death.—St. Augustine.
* * * *
Go where thou wilt, seek what thou wilt, and thou shalt not find a higher way above, nor a safer way below, than the way of the Holy Cross. Thomas a Kempis.
* * * *
THOSE whom Christ saves are they who at once attempt to save themselves, yet despair of saving themselves ; who aim to do all, and confess they do nought ; who are all love, and all fear ; who are the most holy, and yet confess themselves the moot sinful ; who ever seek to please Him, yet feel they never can ; who are full of good works, yet works of penance.
Newman.
* * * *
Hold thyself in low esteem, renounce the pleasures of the senses, detach thyself from the vain cares of this world, and thou shalt gain true peace of heart.
St. Sisoes.
* * * *
Above all the graces and gifts of the Holy Spirit which Christ grants to His friends is that of self-conquest and willingly bearing sufferings, injuries, and reproaches and discomforts for the love of Christ.—St. Francis of Assisi.
* * * *
God extends a constant and special protection over those who place all their confidence in Him ; and they who do so may rest assured that no harm will happen to them.—St. Vincent de Paul.