A Garland of Short Meditations
DEVOTIONAL THOUGHTS from SAINTLY WRITERS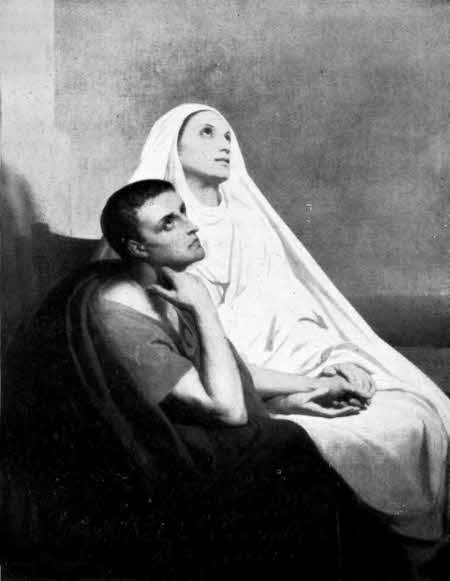 [ National Gallery, London]
" St. Agustine and ST Monica — By Scheffer.
You cannot be silent when stung by pain ? I would not have you silent. 1 wish you to give thanks. It is this which will repel the devil and bring you help from God.
St. John Chrysostom.
* * * *
How much is time worth? As much as God is worth, for God is the reward of time well spent.—St. Bernardine.
* * * *
The enemy of our souls in his malice does all he can to induce us to sin ; let us on our part do all that we ought. Let us have recourse to prayer, and the enemy will be put to flight. It is by thinking of God that we obtain the victory.
St. Isadora.
* * * *
O, if Jesus crucified were to come into our hearts, how quickly and sufficiently learned we should be.
Thomas a Kempis.
* * * *
If God bids us rather lose our own life than give up the salvation of souls, we are determined to obey His command, with His own good assistance, and supplied by Him with strength and courage.
—St. Francis Xavier.
* * * *
Do you think to frighten me by your threats ? I long to suffer torments that I may the sooner be united to Jesus, my Spouse. You may indeed torture, flay, burn, bruise and kill my body ; but
the more cruelly you treat me the more pleased I shall be. What are you waiting for ? Why do you delay ?—St. Agatha.
* * * *
A want of will is the chief obstacle to our becoming saints. We are not holy because we do not really wish to become so. We would indeed gladly possess the virtues of the saints—their humility and patience, their love of suffering, their penance and zeal. But we are unwilling to embrace all that goes to make a saint.
W. Doyle, S.J.
* * * *
Above all the graces and gifts of the Holy Spirit which Christ grants to His friends is that of self-conquest and willingly bearing sufferings, injuries, and reproaches and discomforts for the love of Christ.
St. Francis of Assisi.
* * * *
It needs only for a Catholic to show devotion to any Saint in order to receive special benefits from his intercession.
Cardinal Newman.
* * * *
How can we lead souls to God ? How can we stem the tide of wickedness among the people ? How can we instil the idea of virtue and discipline in those who are entrusted to our care ? The most important point is that we should have real touch with Our Lord in prayer.—St. Vincent de Paul.
* * * *
I always see the best side of things. Some take everything in such a way as to make the worst of things. For myself, it is just the contrary. If there is nothing but pure suffering, if the heavens become so black that I cannot see anything clearly, very well ! I make that my joy.—St.Teresa of Lisieux.