Mother recalls the last time she saw her little girl
Black trial day 1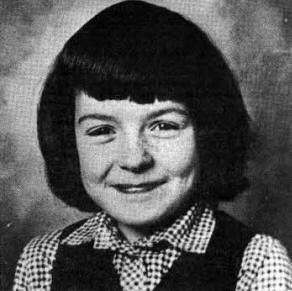 A BALLINDERRY mother whose 9-yearold daughter was abducted and murdered while cycling to a friend's house 30 years ago has recounted her final moments with her "thoughtful little girl" as she gave evidence at the trial of the alleged killer.
Patricia Cardy said nine-year-old Jennifer had been cradling her baby sister Victoria moments before she pedalled off on her new red bike on the short trip from which she would never return in 1981.
Mrs Cardy recalled the last time she saw her daughter alive as the trial of the man accused of kidnapping and murdering her - 64-year- old Robert Black - began at Armagh Crown Court.
The court also heard a police statement taken from one of the schoolgirl's closest friends at the time who revealed that after watching a TV programme about someone who got into a strange car and was abducted, Jennifer vowed she `would never do that".
Earlier, Mrs. Cardy recalled in vivid detail the day of her disappearance.
"I can well remember what Jennifer was wearing," she said, as Black looked on from the dock. "It was her favourite T-shirt, a white T-shirt trimmed with red round the neck and on the T-shirt were red strawberries."
Jennifer left her home near the quiet village of Ballinderry just after lunchtime on Wednesday, August 12, 1981, to go to her friend Louise Major's house about a mile away.
She never arrived. Her body was found floating face down and tangled in weeds in McKee's Dam, behind the Al dual carriageway near Hillsborough six days later. She had been sexually assaulted.
The first day of the murder trial before judge Mr Justice Ronnie Weatherup heard that old work records place Black, a Scot from north London, in the area of the crime at the time it happened.
Petrol purchase receipts, dispatch orders and proof of a bonus payment provide conclusive evidence that the then van driver was in the region the day Jennifer disappeared, a Crown lawyer claimed.
Toby Hedworth QC later revealed that Black accepted he was in Ireland at the time when interviewed by police 24 years later.
Black denies counts of kidnap and murder. In a clear and unwavering voice, Mrs Cardy told the court how she had wound up her daughter's red watch before she set off because she liked to keep good time.
"She was a very thoughtful little girl and her time to leave was always 1.40pm because she liked to get to her friends house for about 2pm," she said.
"Most importantly she liked to be back in time for Jackanory and for that reason she always checked her watch."
She added: "Just before she left she had given our baby Victoria to me. She made a cheeky little remark about her weight - that Victoria was a littde heavy."
Victoria, now 30, listened to her mother's testimony from the public gallery alongside her father Andrew.
Black, who was dressed in a grey jumper, white T-shirt, blue jeans and glasses, showed no emotion in the dock as Mrs. Cardy spoke. Balding with a grey beard, he wore a specially provided headset to assist him in hearing proceedings.
Mrs. Cardy said she became worried when Jennifer had not returned by dinner time, and when she and her husband failed to find her they reported her missing to police.
Friends and neighbours joined in the family's frantic efforts to locate the schoolgirl but only found her bike lying in a field, having apparently been thrown from the roadside.
The trial was then read a police statement from the friend Jennifer was going to visit before she disappeared.
She and Louise Major had watched Prince Charles marry Lady Diana Spencer two weeks before she was killed.
In her 1981 statement, Louise recounted how they had once watched a TV programme about someone who had been kidnapped after getting into a car.
"Jennifer said she would never do that," she told police.
At the outset of the trial, Crown prosecutor Mr Hedworth said a police trawl through old accounts and company records had established Black, who then worked for now defunct London delivery company Poster, Dispatch and Storage Ltd (PDS), was in the vicinity of the murder.
Mr Hedworth said the evidence uncovered included:
*A salary ledger showing Black was paid the £50 given to drivers who did the Northern Ireland run;
* The elimination of all other drivers from the company doing that route at that time;
* A petrol pump receipt showing that the day after the killing Black was driving the company's only Datsun van, which was primarily used for runs in Northern Ireland, East Anglia and in and around London;
* The same receipt was from a service station close to Coventry on a southbound carriageway towards London - indicating, the lawyer claimed, he must have been returning from a Northern Ireland run as opposed to London or East Anglia;
* Order books showing that a PDS poster delivery to Northern Ireland was due to be undertaken around that time.
The QC said Black's work had taken him to cities all around the UK but on that day 30 years ago the evidence pointed to him being in one place.
"He was, in fact, on that Wednesday morning driving a poster delivery van off the Liverpool ferry at Belfast dock and commencing his drops at Belfast, then Dunmurry and finally at Newry before returning to Belfast to catch the evening ferry back to England," he said. "This would leave him - after completing his deliveries - with time on his hands in the general Lisburn area at exactly the time that little girl was plucked from the roadside in Ballinderry."
Mr Hedworth further claimed that Black's route back to the ferry would have taken him straight past the lay-by beside which Jennifer's body was eventually located.
The lawyer said that when evidence was put to Black in police interviews in 2005 he acknowledged he must have been in the area.
"He accepted he did the Ireland run that week and would have been in Ireland from the morning of 12th August 1981 to that evening and on that day he had done his normal deliveries in Belfast and then Newry," said Mr Hedworth.
The lawyer said Black had conceded he used the Al dual carriageway that ran between Lisburn and Newry when he was in Northern Ireland.
Mr Hedworth described the events that unfolded 30 years ago as "every parent's nightmare".
He said child murders in the UK were extremely rare, and even rarer in Northern Ireland.
"That little girl never got to her friend's," he told the jury of nine women and three men.
"Somewhere along the way every parent's nightmare occurred. She was abducted, sexually assaulted and killed."
He added: "Why would anyone take a young girl from the roadside and then, when they were done with her, discard her body?"


Dispute over invoice evidence
Black trial day 2
INVOICES linking the dispatch company which employed Black to the area where Jennifer was murdered do not make clear what date it delivered there, the court heard on day two of the trial.
A retired businessman who commissioned London-based firm Poster Dispatch and Storage Ltd (PDS) to deliver to Northern Ireland in the month nine-year-old Jennifer was murdered, said he could not be certain exactly when it carried out the job.
Retired chair of advertising agency Concord and Poster Link Alan Simmons was questioned by prosecution and defence counsel on old invoices related to transactions between his company and PDS.
The Crown has claimed the documents, along with other work records, indicate that Black, a Scot from north London, had conducted a delivery run in Northern Ireland on the day of the murder before getting an overnight ferry back to England.
Mr Simmons' ad agency employed PDS to deliver posters for the launch of a series of new nationwide campaigns for clients such as Citroen, Scottish and Newcastle breweries and Phillips electrics.
With Black watching proceedings from the dock, Crown lawyer Toby Hedworth QC asked the businessman when the posters would have been delivered if they were due to be on billboards for the start of the campaigns on September 1.
Mr Simmons said he would have expected them to be there around two to three weeks
before they were unveiled.
"I would expect PDS to take delivery earJy in the month before and distribute them around the middle of the month," he said. Mr Simmons said if the posters were not up as commissioned he would have known about it as he had a regional employee in Northern Ireland to check up on this.
But Black's defence lawyer David Spens QC said the invoices were not specific about delivery dates.
"There's no document that demonstrates on its face there was a delivery to Northern Ireland in the middle of August 1981?" he asked.
Mr Simmons acknowledged he did not know exactly when PDS would have made the trip.
"I can't give you a specific date just a likely period between which it would have been delivered," he said.
Mr Spens suggested a delivery could have been done at the start of August, when PDS first received the posters from the printers, or in fact closer to the end of the month.
The lawyer put it to the businessman that orders could have been received as little as five days before the date the posters were to be put up. Mr Simmons said that may have been the case, noting he was unaware what order PDS delivered across the UK, but said he doubted it.
"We didn't work to those sort of short deadlines," he said.
The Crown has also argued that petrol purchases made on the day after the murder
demonstrate that Black was in Northern Ireland the previous day.
They claim one proves the defendant was driving the company's only Datsun van, which was primarily used for runs in Northern Ireland, East Anglia and in and around London.
They assert that same receipt was from a service station close to Coventry on a southbound carriageway towards London — indicating he must have been returning from a Northern Ireland run as opposed to London or East Anglia.
Retired police officer Thomas Bell was one of a team from the Lothian and Borders police force which located the receipts after trawling through records at Shell UK's headquarters in greater Manchester in 1996.
Taking the witness stand, he said the task involved searching 304 boxes, each containing thousands of receipts on microfiche.
Mr Bell told Mr Hedworth they were specifically looking for Black's signature.
Mr Black's (signature) was qurte clear, it was quite distinctive," he explained.
Under cross-examination from Mr Spens, the officer acknowledged the records of fuel purchases made by PDS drivers at the time was not complete.
He said only Shell UK had kept records from that time so any transactions at BP filling stations were no longer in existence.
"There are no records available for that, nothing at all," he said.