Accused is a convicted child Hiller, fury is told
Black Trial day 9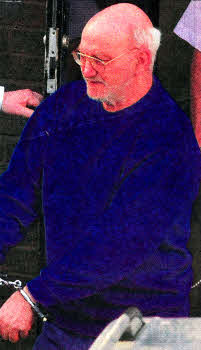 Robert Black
CHILD serial killer Robert Black's horrific criminal past has been revealed to a stunned jury at his trial for the murder of nine-year-old Jennifer Cardy.
Armagh Crown Court heard, for the first time, that the Scottish van driver has already been convicted of murdering three young girls, abducting a fourth and attempting to snatch another.
Sex attacker Black, 64, now stands accused of kidnapping and murdering nine-year-old Jennifer 30 years ago.
Jennifer was abducted as she cycled to a friend's house in Ballinderry in August 1981. Her body was found six days later floating in a dam 10 miles away near Hillsborough, Co Down.
Legal reasons had prevented the killer's criminal record being disclosed to the jury during the first eight days of the high profile trial.
But that changed during a dramatic day in No.1 Court in Armagh as Crown lawyer Toby Hedworth QC outlined in graphic and shocking detail exactly what the man sitting in the dock had been found guilty of.
"The stage in the trial proceedings has been reached when I can tell you," he told the jury at the outset of his address.
With an impassive Black listening to proceedings with the aid of a special hearing device, Mr Hedworth revealed the defendant had been convicted of murdering three girls in the 1980s — Susan Maxwell, 11, Caroline Hogg, five, and 10-year-old Sarah Harper — and the attempted kidnap of a 15.-year-old girl in 1988.
The lawyer said the London-based delivery driver's reign of terror ended in 1990 when he was arrested near Stow in Scotland with a six-year-old girl gagged, bound and stuffed head first into a sleeping bag in the back of his van.
He was convicted of her abduction after pleading guilty.
Police subsequently linked him with the three murders, the attempted abduction of the 15-year-
old and a series of other charges.
He denied the counts but was found guilty of them all at a 1994 crown court trial in Newcastle Upon Tyne.
Mr Hedworth said his past crimes did not in themselves make Black guilty of Jennifer's murder but said the striking similarities between the cases would prove it.
He urged the jury: "What you certainly must not do is say 'well he's done those other ones, he's a thoroughly bad man so we'll find him guilty in this case as well'.
"What you have to do is look at what he has been proved to have done in respect of those other girls and see whether it assists you in deciding whether you can be sure that it was Robert Black rather than some other individual who abducted and killed Jennifer Cardy," said Mr Hedworth.
"The prosecution will submit that the similarities between Jennifer's case and those other cases make it clear that they were in fact the work of the same man."


Pathologists disagree on how Jennifer died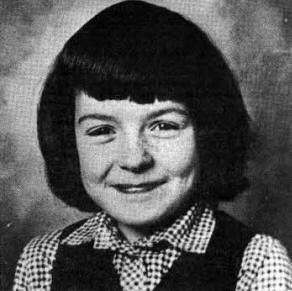 Jennifer Cardy
PATHOLOGISTS disagree on how Jennifer died and if she was sexually assaulted, the court heard.
The tenth day of Robert Black's trial also heard evidence that the stopped time displayed on Jennifer's wind-up watch - 5.40pm - when she was pulled from McKee's dam indicated she had been dumped into the water around four hours after she disappeared.
The Crown contend that former van driver Black murdered Jennifer while in the province for one day doing a delivery run for the London-based poster dispatch company he worked for.
The majority of the day's evidence focused on the cause of Jennifer's death and if she was the victim of a sexual assault.
Former Northern Ireland state pathologist Professor Thomas Marshall, who carried out the autopsy on Jennifer's remains, said while there were signs of neck compression, he was convinced she had died from drowning.
"I've always been certain that she died from drowning," he said.
The retired medical expert also said he had also not found any evidence of a sexual assault.
"I did think about it and came to the conclusion there was no evidence of sexual activity," he said.
However, it later emerged that a senior pathologist who is to appear as another Crown witness holds contrary views.
Defence counsel David Spens QC asked Prof Marshall if he was aware that Dr Nathaniel Cary, who reviewed the case in more recent years, found the cause of death to be strangulation and that there was evidence of a sexual assault.
Prof Marshall said he knew of Dr Cary's views but that he stood by his 1981 findings.
Earlier, Prof Marshall said the condition of Jennifer's lungs on examination pointed to drowning in fresh water as the cause of death.
Prof Marshall said he could not determine how forcefully her neck had been compressed but was sure that had not killed her.
But he told Crown counsel Toby Hedworth QC Jennifer could have been unconscious when she was dumped in the dam.
"She may have been rendered unconscious by the pressure on her neck," he explained.
Under cross-examination by Mr Spens, Prof Marshall said he had found no evidence of a sexual assault.
The trial also heard from forensic science expert David Scaysbrook, who reviewed evidence on the clothes Jennifer was found in.
The court heard the police no longer have the clothes and they may have been destroyed in a bomb blast at the forensic science labs in the early 1990s.


Similarity to other killing 'important', jury is told
THE 1981 murder of Jennifer bears remarkable similarities to the death of one of Robert Black's victims, his trial has heard.
Forensic pathologist Nathaniel Cary told Armagh Crown Court the fact the cases of Jennifer Cardy and Sarah Harper were so alike was important because child abductions were so rare.
Black has already been convicted of three child murders — one of which was the 1986 killing of 10-year-old Sarah Harper, who vanished from Morley near Leeds.
On the 11th day of Black's trial, Dr Cary told the jury the circumstances of the two girls' deaths were "remarkably similar".
"These cases are very rare," he added. "So if a rare thing has similar features that's an important point."
Both girls were found dumped in water, Jennifer in a dam 10 miles from her home near Hillsborough and Sarah in the River Trent near Nottingham.
Dr Cary said there were similar marks on both victims' bodies and both may have been still alive when they were put in the water.
He said there were clear signs of a serious sexual assault on Sarah's body, and while there were no such visible injuries on Jennifer he believed the evidence indicated she had also been interfered with.
Black was found guilty of Sarah's murder at Newcastle Crown Court in 1994. At that trial he was also convicted of killing 11-year-old Susan Maxwell from the Scottish borders in 1982 and Edinburgh girl Caroline Hogg, five, a year later. Dr Cary, who has worked on high profile cases such as the 2002 Soham murders and the 1pswich prostitute killings of 2006, said Susan and Caroline's bodies were so badly decomposed when they were recovered it was not possible to make the same forensic examinations as with Jennifer and Sarah.
Dr Cary followed former Northern Ireland state pathologist Professor Thomas Marshall into the witness box. It had emerged they came to different conclusions on Jennifer's cause of death and
whether she was sexually assaulted.
Prof Marshall stands by his autopsy report of 1981 in which he stated drowning as the cause of death and indicated he had found no evidence of sexual assault.
Dr Cary does not rule out drowning but forwarded alternative suggestions, including that she was asphyxiated with a ligature, or that she had a ligature tied round her neck but escaped and drowned as she tried to get away. He said this latter scenario was the least likely.
Dr Cary insists Jennifer was sexually assaulted and says techniques to determine this were unavailable in the 1980s.
Earlier, Prof Marshall expressed unease about a meeting he had with Crown lawyers in 2008 to discuss Dr Cary's review of his findings.
"I think at that moment there was a little pressure for me to alter the opinion I had given in 1981," he said. "I've a recollection of feeling I was being asked to say something which I didn't believe in.'
Crown counsel Toby Hedworth QC asked Prof Marshall if his findings ruled out sexual assault. The retired pathologist said his examination results did not contradict possible sexual interference, just that he had found no evidence of it.
Dr Cary said Prof Marshall was highly respected and he felt "uncomfortable" having to disagree with conclusions. But he stressed there was just a different emphasis.
"I actually don't think it matters, because if drowning took place it was clearly as a result of being abducted and dumped in water," he said.
Questioned by defence barrister David Spens, Dr Cary said Prof Marshall came at the information from the perspective of a pathologist who hadn't practiced for almost 20 years. He said that postmortem techniques now made it easier to identify sex injuries.
The expert stressed that he was not criticising Prof Marshall. "I would not want to be judged in many years time by the techniques of today," he said.


Schoolgirl's terrifying ordeal recalled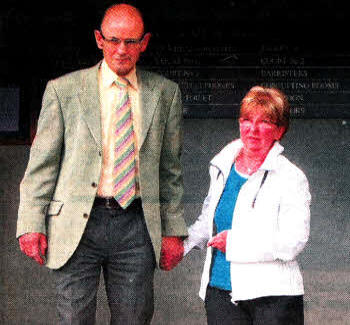 Andy and Patricla Cardy parents of nine-year-old murder victim Jennifer Cardy leave Armagh Crown Court.
A SCHOOLGIRL'S terrifying recollection of the moment she was snatched from the roadside by Black has been heard at the trial.
The six-year-old was rescued after being sexually assaulted, bound, gagged, hooded and tied up in a sleeping bag. Medics believed she was minutes from death.
The jury heard the statement made by the young survivor of his July 1990 abduction in the village of Stow in the Scottish borders on day 12 of the trial.
She had been walking home from a friend's house when she encountered Black standing at the passenger door of his parked blue Transit Van.
"He wasn't looking at me then but then he looked at me," she told police afterwards. "I didn't know he was a bad man then.
"He said sorry but then he grabbed me round the waist and bent me over and pushed me under the chair of the van."
Her statement was read to the court by retired Lothian and Borders Police Detective Chief Superintendent Roger On, one of the senior officers who headed up the investigation which led to Black's triple murder conviction in 1994.
Mr Orr described how Black twice shouted at the girl to be quiet, calmly reversed 30 yards down the road, performed a three-point turn and drove out of the village.
He then took her to a lay-by near a disused quarry where he bundled her into the back of his van and sexually abused her.
Black then gagged the girl with strips of medical tape, bound her hands and pulled a cushion cover over her head, tying it tightly round her neck. "He then placed her inside a sleeping bag and zipped it up," said Mr Orr.
Fortunately, the kidnapping had been witnessed by a resident of Stow and Black was caught by police minutes later as he drove back through the village.
The petrified girl was found stuffed head-first in the sleeping bag wedged behind the driver's seat of the van and Black was arrested, finally ending his reign of tenor.
He was convicted of the abduction and sexual assault and four years later found guilty of three unsolved child murders in the 1980s — 11-yearold Susan Maxwell, from the Scottish borders, five-year-old Caroline Hogg, from Edinburgh, and Sarah Harper, 10, from Morley, near Leeds.
The court heard that a search of Black's van after the girl was rescued uncovered a stash of disturbing items.
Among them were articles of girls' clothing; an assortment of ties, tapes and other binding material; so-called sex toys; and a host of other objects which could be adapted for use in sexual acts.
The trial continues,,,