Black `told customer he used Hillsborough filling station'
Black trial day 3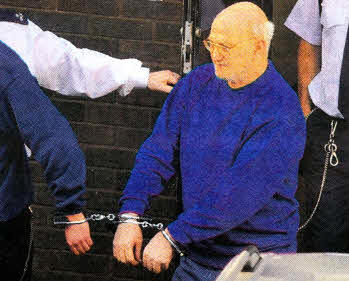 ON day three of the trial the court heard Robert Black had told a customer he used a filling station close to where Jennifer's body was found.
A retired Newry businessman, to whom Black delivered advertising posters in the early 1980s, told the jury he remembered one specific conversation with the driver about a petrol station at Hillsborough.
George Hughes, who owned poster billboard sites in Newry, said: "Once I remember asking him why he was coming over (from England) because there was a petrol shortage at the time. "He told me he had a card he could produce at Shell petrol stations and they would give him a fill-up and he told me he got a fill-up at a Shell station in Hillsborough that morning."
The Crown has been seeking to prove that Black was in Northern Ireland on the day of the murder on a delivery that took him along the Al dual carriageway between Belfast and Newry.
Under cross examination by defence QC David Spens, Mr Hughes confirmed he no longer had any records of the exact days when the company Black worked for — Poster, Dispatch and Storage (PDS) — delivered to him.
The Crown has claimed an extra £50 paid to Black on a PDS salary ledger two days after the murder was the bonus he received for doing the Northern Ireland trip.
The court was read a statement made by co-owner of PDS Valerie Staalem to police in 2003.
She has since died. In it she was asked to interpret the ledger.
"I would say on looking at it that the Ireland run was done some time between the 6th and 13th of August 1981 and Robert Black did it as there was a £50 bonus paid to him," she had told officers.
Mr Spens said if he had an opportunity to cross exam Mrs Staalem he would have questioned her as to whether the run had actually taken place between these dates.
Former PDS warehouse manager Raymond Baker said Black was only one of two drivers who didn't mind doing the Northern Ireland trip. The others were concerned about the security situation, he said.
The Crown has also argued that petrol purchases made on the day after the murder demonstrate that Black was in Northern Ireland the previous day.
They claim one proves the defendant was driving the company's only Datsun van, which was primarily used for runs in Northern Ireland, East Anglia and in and around London.
They assert that same receipt was from a service station close to Coventry on a south-bound carriageway towards London — indicating he must have been returning from a Northern Ireland run as opposed to London or East Anglia Another receipt signed by Black that day was in Greater Manchester for another vehicle.
Mr Baker said he thought Black had stopped in Coventry on his way back from Northern Ireland, picked up another load of posters from the London depot and set off to Manchester in another vehicle.
"I presume he's coming across from Ireland," he said when asked to interpret the Coventry docket.
He added: "A few times I could remember that Robbie (Black) has come back from Ireland, possibly could've filled up in Coventry and there was another load for him (at the depot), because he was a single chap who didn't worry about trips, and he could have gone up and done another trip in the Fiat."
But Mr Spens questioned this explanation. He suggested Black could have actually just been delivering to Coventry and then returned to London.
He asked Mr Baker could he be certain that Black was in Northern Ireland the day before.
"I can't be certain about anything at this stage, it's long after," he responded.
Mr Spens also challenged the prosecution claim that the Datsun van was only used in East Anglia, London and Northern Ireland.
He asked another of Black's former colleagues — PDS driver John Radford — to explain petrol receipts from the early 1980s that indicated the vehicle had also been in the north of England, in places such as Preston.
"This white Datsun van, although most of the time it was doing runs to East Anglia, London and Northern Ireland, it also made other runs, didn't it?" he asked the witness.
"So it seems," replied Mr Radford.
But during further questioning Crown lawyer Toby Hedworth QC claimed the Larne/Stranraer sailing route had taken over from the Liverpool/ Belfast service in 1981.
Mr Radford agreed that Preston would have been on the route to Stranraer from London and so the Datsun could still have been bound for Northern Ireland.
Mr Spens noted that Mr Radford had once been paid a £50 bonus on a week he hadn't been to Northern Ireland.
The driver said payments on the ledger did not necessarily relate to one specific job and could incorporate bonuses for a combination of routes, overtime rates and road tolls.

Accused 'was in Ulster' on day of girl's murder
Black trial day 4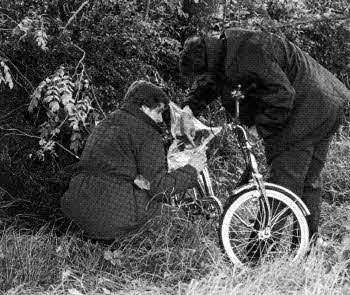 A former work colleague of Robert Black told his trial on the fourth day he has no doubt he was in the region on the day she vanished.
Michael Carder, who also worked as a driver for PDS, told the trial at Armagh Crown Court that fuel receipts pointed to him being in Northern Ireland on a delivery run.
He said a receipt signed by Black the following day - August 13 - at a filling station outside Coventry on the main road to London suggested he was returning from the ferry at Liverpool.
Crown lawyer Toby Hedworth QC asked Mr Carder if he had any doubt Black was in Northern Ireland that day. Mr Carder replied: "No". Black denies the charges facing him.
Mr Carder said the Datsun van Black was driving when he bought the fuel was only really used for the Northern Ireland route, and trips in and around London and East Anglia.
However, Black's defence counsel, David Spens QC, said the witness's assertion that his client was in the region was based on two assumptions: that PDS carried out a delivery in Northern Ireland on that date; and that the Datsun van was limited to Northern Ireland, London and East Anglia. Mr Carder agreed with the lawyer's point.
Earlier another former PDS driver, Ian Staalem, was also asked to interpret the Coventry receipt.
"That would suggest to me that he was returning home to London," he said. 'As it was the smaller van (Datsun) it could have been from Liverpool having done the Belfast run." However he said he could not be certain Black had been in Ireland.
Susan Marchant, who worked in a London filling station in the early 1980s, said dates on old fuel receipts could be wrong as the machine had to be manually wound on every morning.
The defence has suggested Black could have been doing a run to and from Coventry the day he bought the fuel.
Mr Hedworth asked another PDS driver - Raymond Aldridge - if he recalled single trips to Coventry when he was in the company. "It never happened in my time," he replied.
The Crown has claimed that £50 paid to Black on a PDS salary ledger two days after the murder proves he was in Ireland that week, as that was the amount given as a bonus to drivers going to the region.
Mr Aldridge also said the Datsun van was mainly used for "the Ireland run, London and East Anglia".
The Crown has claimed Black was prone to going off the main routes on his delivery runs, thus explaining why he was on the rural road that Jennifer disappeared from. Mr Carder and fellow ex-PDS driver Paul Scargill both confirmed to Mr Hedworth that Black was known for taking aiteernative roads off main routes.
The trial continues.