'Always in our hearts'
'She just loved life and was a joy to have around'
by MARY MAGEE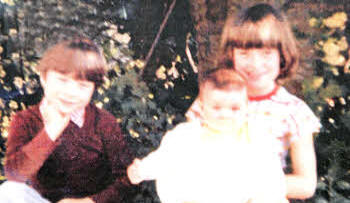 A treasured picture of Jennifer with sister Victoria and brother Philip.
THE mother of Jennifer Cardy, the nine-year-old Ballinderry girl kidnapped and murdered over 30 years ago, says she is certain she will meet her beloved daughter again one day.
Patricia Cardy said the Christian faith which has sustained her, husband Andy and their family since their little girl was taken, has convinced her they will meet again one day.
Last week Robert Black, the man who so brutally took away her short and precious life, was finally brought to justice, but the memories of their beloved little girl are as vivid today for Patricia and the family as three decades ago.
Patricia says faith and a strong close knit family have helped them get through each day since Jennifer was abducted on August 12, 1981. "We will miss Jennifer until we meet her again, and I firmly believe that I will meet her again," Patricia said. "We loved Jennifer in every way and she is always in our hearts. She was just very innocent and had a lovely, beautiful imagination.
"She loved to play and loved her friends. She just loved life and was just a joy to have around."
Jennifer was Andy and Patricia's eldest daughter. Her older brother Mark was then 13, Philip was six and Victoria, whom Jennifer adored, was just eight months old in August 1981.
"Jennifer just loved her baby sister," said Patricia. "She helped me bathe her every morning and she would even go and pick her clothes out for the day. She was always very good that way.
"Jennifer loved her friends and loved going to see them. She always had friends coming up to see her. She loved her family and was a very thoughtful child, surprisingly thoughtful for such a young girl.
"She knew a lot even though she was just nine. I had just taken rheumatoid arthritis after Victoria was born. Jennifer would see that I was unable to do things and would help. She was always ahead of me in that way. She would have tidied and put things away without being asked or told."
Her mother also remembers Jennifer as a child who was a lot of fun.
"Jennifer and Philip would lie with Victoria and try to get her to crawl," she said. "I will never forget just watching them."
Jennifer was given her red bike by her parents just a fortnight before she was abducted. The family had not gone on holiday that year so after the July holidays Jennifer went with Andy to Hickland's to pick out her new bike.
Just days later proud Jennifer got her picture taken with it on the very day that she watched the Royal Wedding.
"August 12, 1981 was the last day she would have used her bike for a while," recalls her mum. "She was to go with the Child Evangelical Fellowship on a Good News camp.
"She had just reached the age where she could go to the week long camp which was to be in Kilkeel and I remember saying to her that Wednesday that would be her last day on the bike for a while because of the trip.
"One of her friends was going too and she was really excited.
"The following day we planned to go and see a church friend who was lending her a fancy dress costume and she was very excited about that as well."
The paper trail that led to conviction of a monster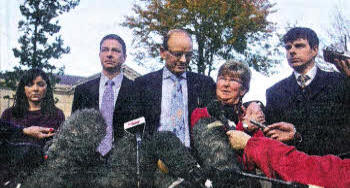 Andrew and Patricia Cardy outside Armagh Court House with their daughter Victoria and sons Mark and Philip after the guilty verdict.
THERE had been a lot of speculation over the years as to whether Robert Black would ever be charged with Jennifer Cardy's abduction and death.
He was already serving life sentences for the murders of Sarah Harper, 10; Caroline Hogg. 5 and Susan Maxwell, 11 - all crimes to which he had pleaded not guilty.
But detectives were sure he was responsible for Jennifer's murder too and began a mammoth operation to get the evidence. The first task was to show that he was in this area on the day Jennifer was snatched. It involved sifting through thousands of petrol receipts. Remarkably, they managed to find the receipts signed for by Black which, his former work colleagues testified, could only have been done by someone making deliveries to Northern Ireland. It meant the prosecution was able to place him in the area Jennifer disappeared at the time she went missing.
Experts also gave evidence of the similarities between the three murders for which Black had already been convicted, the kidnap of the six-year-old girl who had been rescued, and Jennifer - a crime the court heard was 'unique' in modern criminal history here.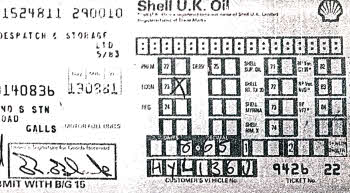 The crucial petrol receipt which Black signed in 1981
Juries are not usually allowed to know of a defendant's current or past convictions, but in this case the judge allowed it.
The conviction comes six years after a team of detectives led by PSNI Chief Superintendent Raymond Murray first questioned Black about Jennifer's murder. He was flown to Northern Ireland in May of that year and questioned for a second time about her murder. He was arrested on
suspicion of the murder of the schoolgirl and held at Antrim Police Station but was later released.
Then on December 16, 2009, Black was formally charged with the little girl's murder.
Black has also been questioned about other unsolved crimes since his conviction, in particular the killing of Genette Tate (13) who disappeared near Aylesbeare in Devon on August 29, 1978 while delivering copies of a local paper.
Her bicycle was found lying in the lane by two girls who had been walking towards the village with her just minutes before. Genette's body was never found and the case is Britain's longest missing person inquiry.
It is feared he may have killed at least 12 more children.
The mind of a serial killer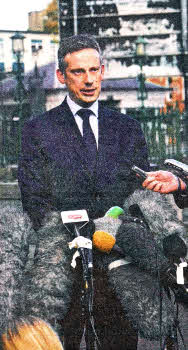 Detective Chief Superintendent Raymond Murray who led the investigation into Jennifer's murder speaks to the press after the guilty verdict.
BLACK was born on April 21, 1947 and within days his birth mother put her son put into foster care. He was fostered by Jack and Margaret Tulip and known as Robbie Tulip.
He was already involved with petty crime when at 11 his foster mother died in 1958 and Black was sent a Children's Home near Falkirk. In the summer of 1962, aged fifteen, he left the home. He tried to be a professional footballer, but failed and as a keen swimmer became a lifeguard. He became a delivery boy and rented a room at a boys' home in Greenock, outside Glasgow.
He later admitted that while he was doing his delivery rounds he molested 30 or 40 girls.
At 17 Black approached a seven-year-old girl in a park, asking her if she would like to go with him to see some kittens. The girl followed as he led her to a deserted building. She was later found
wandering the streets: bleeding, crying and confused. He was later charged with 'lewd and libidinous' behaviour with a young girl.
He was also found guilty of molesting two girls - the grandchildren of his landlady.
In 1978 - 13-year-old Genette Tate went missing. Three years later 9-yearold Jennifer Cardy disappears on he way to a friend's house
Almost exactly a year later, on July 30 1982, 11-year-old Susan Maxwell disappeared as she walked from Cornhill on Tweed to Coldstream to play tennis. The body of the 11-year-old was found dumped 300 miles away by the roadside near Uttoxeter, Staffordshire two weeks later.
On July 8, 1983, Caroline Hogg disappeared after playing near her home in Portobello, Edinburgh. Her body was found in a ditch in Leicestershire ten days later. Witnesses said they saw a scruffy looking man watching the five-year-old at a playground near her home.
On March 26, 1986, ten-year-old Sarah Harper was walking to the corner shop near her home in Morley, Leeds to buy a loaf of bread. Although she arrived at the shop, she never made it home.
Her body was found floating in the River Trent near Nottingham a month later It was on July 14 1990 Black attempted to abduct another young girl but was caught when the victim was found tied up and gagged in a sleeping bag in the back of his van. She had been sexually assaulted moments before and was not far from death when police found her. In 1994 Black stood trial in Newcastle for the murders of Susan Maxwell, Caroline Hogg and Sarah Harper and was found guilty of all three.
He has been identified as one of a handful of prisoners who will never be considered for parole.
Black found guilty 30 years after crime which chilled the country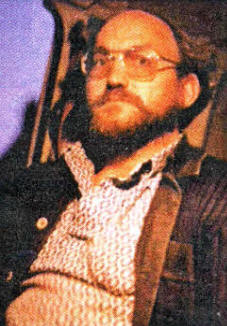 Robert Black.
THIRTY years after Jennifer Cardy was abducted and murdered and 17 years after Robert Black was first convicted of the murder of three girls in England the jury at Armagh Crown Court found him guilty of the Ballinderry schoolgirl's killing.
The jury took four hours and 15 minutes to reach their verdicts by a 10-2 majority.
Mr Justice Ronald Weatherup told 64-year-old Black: "You have been convicted by a jury of murder. There is only one sentence that will be imposed by law.
"That's the sentence of life imprisonment. Accordingly, I sentence you to life imprisonment."
He then turned to the guards and said: "Take him down."
During the trial detectives trawled 560,000 old fuel receipts, eventually finding the one that proved crucial.
The receipt showed he was driving south to London the day after the murder in August 1981 in a van primarily used to deliver posters in Northern Ireland.
As a delivery driver in the 1980s, he used his job to strike in England, Scotland and now Northern Ireland.
It is believed he is now being investigated for other child killings during that time.
The day Jennifer left to see her friend and never came back home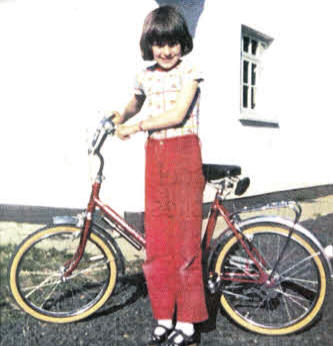 One of the last pictures of a happy Jennifer with her new bike.
THE last image Patricia has of her daughter on that fateful day was of her tossing her beautiful hair as she walked out of the back door of her Crumlin Road home for the last time.
The family had just had lunch and Jennifer was setting off to her friend Louise Major's home over a mile away, close to Ballinderry Primary School.
Jennifer was nursing Victoria on her knee. Just before she was getting up to go she handed the baby to Patricia and made one of her usual quips. She said that she had to give Victoria back as she believed that the baby was getting quite heavy now. They both laughed.
"I remember us laughing so much," she said.
Jennifer, who was wearing a tee shirt and carrying her cardigan, went to get her hankies from a drawer and as she walked out of the glass panelled door she tossed her hair around and closed the door. That is the last time she saw her daughter alive. It was 1.40pm.
Jennifer was always home for 4.30pm so when she hadn't come back, Patricia began to worry.
"I was a bit edgy" she said. "There were no phones - no-one had phones then - so we couldn't ring anyone." Andy came home at 5.30pm and Patricia told him how worried she was.
"I felt there was something very wrong," she recalled.
Patricia wanted to go out and look for Jennifer but Andy had to fix a puncture on the car first.
Around 6.30pm, with baby Victoria, they set out in the car to go and look for their daughter.
When they got to Louise's house they were told Jennifer had never arrived. They called the police.
"It was really worrying," said Patricia. "We were searching but finding nothing,"
By now the police were launching a full scale search. Army and helicopters were also called. It was around midnight before her bike was located, half a mile away in a hedge. It was found with the rest down, suggesting Jennifer had been stopped.
It was six days later before her body was found at McKee's dam in Hillsborough.
Patricia recalls how Andy told her that her body had been found, Together they both told the children.
'At that stage I had been praying that her body would be found," she said. "I knew I had to face up to the fact that our little Jennifer was not coming home again and we had been praying that she would be found. I knew I could not go on.
"There are some families who would be split or broken because of something like this but we are a Christian family and God helps us.
'I always believed he would be found guilty'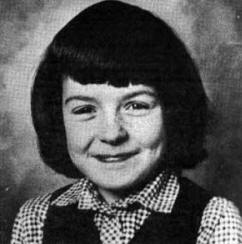 It was an emotional day for Jennifer's parents Andrew and Patricia after the verdict.
DEPRAVED, brutal and sadistic' are the words that Patricia believes describe Robert Black who killed and abducted her daughter on that summer's day in 1981. "One of the policemen said after the trial that Robert Black that he was a waste of human space and I felt that was well put," she said. "This man abused innocent little children.
"We watched him during the trial and I just had a real fear for him. We are Christian people and I know how good people can be and I know how good God is. He saves us and makes us safe and right.
"I know that Black is 64 and he will sometime have to meet his God.
"I became a Christian when I was 21. What has helped me through is God gives us lovely things and terrible things but one thing that God also gives us, is grace. He gives us the ability to get through and helps us get on with our life.
"Sometimes it is a fight but that is what being a Christian is all about.
"We will miss Jennifer each and every day until we meet her again and I firmly believe that I will meet her again."
Patricia said that as much as she had braced herself for the trial, nothing prepared her for when the words 'guilty' were read out by the foreman of the jury.
'When we heard the words 'guilty' on two counts of kidnap and of murder at the trial my blood chilled and I could not breathe. I always believed that he would be found guilty, there was no question of that, but it was incredible to hear those words.
"When the judge, who conducted the trial very well, then said 'take him down' those were eerie and chilling words as well. I will never forget them."
Ulster Star
04/11/2011