Frantic fight by girl to stay alive - jury is told
Black trial day 13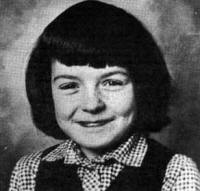 A TEENAGER'S desperate struggle with serial killer Robert Black as he tried to bundle her into his van has been recounted at his latest murder trial.
Fifteen-year-old Teresa Thornhill, who ultimately escaped the paedophile's grasp after biting and kicking him, later told police: "I was fighting for my life."
Details of the failed abduction bid in Nottingham in 1988 were recounted at Armagh Crown Court on the 13th day of Black's trial for the kidnap and murder of Jennifer Cardy in Northern Ireland seven years earlier.
Earlier, the jury visited the road in Ballinderry, Co Antrim, where Jennifer was snatched in August 1981 and the dam 15 miles away where the nine-year old's body was found six days later.
In 1994, Black was convicted of three other child murders and the attempted kidnapping in the Radford area of Nottingham.
The court heard yesterday that work records and petrol purchase receipts placed the former delivery driver close to all those crime scenes.
The Crown contends that similar documentation links the Scottish killer to the area where Jennifer vanished. The 64-year-old denies the charges. Retired Scottish police detective Roger Orr, who led the triple murder investigation in the early 1990s, told the jury of Black's efforts to capture Teresa in April 1988.
He said she had been walking home with a friend when they spotted a blue Ford Transit van driving suspiciously. She and her friend then went their separate ways before Teresa again saw the vehicle, this time parked up on the road in front of her.
Mr Orr said she crossed to the other side of the road because she felt uneasy. The former Lothian and Borders Police detective chief superintendent said Black then opened the bonnet and called across to her.
"He asked her if she could fix engines," he said.
"At this time she was becoming quite concerned and quickened her pace.
"But she was immediately grabbed from behind, she didn't see it coming."
Mr Orr said Black enveloped her with both arms and tried to drag her over to his van. "It was a very strong bear hug, pinning her arms by her sides and lifting her off the street," he said.
In her efforts to escape, Teresa bit Black on the hand and arm and knocked off his glasses. "She screamed continuously and struggled,' said Mr Orr. "In her own words, she was fighting for her life."
Black thrust his hand over her nose and mouth and tried to push her into the door of his van.
Mr Orr said the schoolgirl resisted fiercely, wedging her feet up on either side of the door frame and refusing to go in.
"He responded by saying 'Get in, you bitch'," said the retired officer.
At this point, Teresa's friend, who had heard her cries for help, came running to the scene. Black finally let go and the pair ran away.
Mr Orr recounted Teresa's lucky escape as he gave evidence for a second day about Black's dark criminal past.
The serial killer showed no emotion in the dock as the details were outlined to the jury and judge Mr Justice Ronald Weatherup.
Jennifer's parents, Andy and Patricia, and her younger sister, Victoria, watched from the public gallery.
Hours before Mr Orr retook the stand, the jury visited the locations involved in Jennifer's case.
The schoolgirl vanished as she cycled from her home in Ballinderry to a friend's house.
Accompanied by the judge and prosecution and defence lawyers, the jury retraced that short journey along the Crumlin Road, stopping where Jennifer's bike was thrown into a field beside the road.
The schoolgirl's body was found six days later floating in McKee's dam, which is located behind a lay-by on the main Al road at Hillsborough, Co Down.
Escorted by police, the jury members were taken to the lay-by where they walked to the waterside, yards from the place where Jennifer was discovered. The defendant was not taken to the scenes of his alleged crimes.
Black was finally caught in 1990 in the Scottish village of Stow with a hooded six-year-old girl stuffed into a sleeping bag in the back of his van.
On Wednesday, Mr Orr outlined details of two of the three murders Black was convicted of — Susan Maxwell in July 1982 and five-year-old Caroline Hogg in July 1983.
Yesterday he described the circumstances of the murder of Sarah Harper, 10, from Morley, near Leeds in 1986.
Sarah disappeared after leaving her home to buy a loaf of bread at a corner shop.
Her body was found floating in the River Trent near Nottingham a month later. She had been raped.


Court hears Black spied on young girls
Black trial day 14
SERIAL child killer Robert Black prowled crowded beaches hunting out opportunities to spy on and play with young girls, the court heard on day 14 of his trial.
The notorious Scottish paedophile said he would join in building sand castles or digging holes in an effort to get close to the unsuspecting youngsters. In police interview tapes played to the jury at Armagh Crown Court, the triple child murderer also revealed how he would park up on roadsides to watch girls from his delivery van, making up excuses to talk to them.
In the interviews with detectives investigating Jennifer's case, Black also denied involvement in the three murders he was convicted of in 1994, suggesting there was a conspiracy against him.
But during some of those recorded exchanges in 1996 and 2005, the killer did concede he had a strong sexual interest in young girls and would actively seek them out.
Black showed no emotion from the dock as his sordid admissions were played to a silent court room. Jennifer's parents Andy and Patricia and her older brother Philip listened from the public gallery.
Black told detectives he would introduce himself to groups of children on beaches.
"If they were burying each other in the sand I might join in or something like that," he said.
He said he would concoct a pretense for talking to the girls' parents to strike up a relationship.
"I would ask them to watch my watch and glasses while I went for a swim," he explained.
Black said he would often just look on from close by.
I would just observe them as long as I could and then carry on walking along the beach keeping my eyes open for another opportunity," he said.
Black is accused of snatching Jennifer while she cycled along a quiet country road in Ballinderry, Co Antrim, on August 12, 1981. Her body was found six days later in a dam 15 miles away behind a roadside lay-by at Hillsborough, Co Down.
The Crown claim Black, a London-based dispatch driver, was in Northern Ireland on the day Jennifer disappeared on a delivery run.
Under questioning by detectives, Black insisted he had no involvement. But he did admit he would often watch young girls from his van in the course of his work.
"I would look at her (a young girl) and try to guess what age she was, maybe I might park up for a couple of minutes and watch her," he said.
He added: "If she was walking a dog I would get out and stroke the dog or ask for directions."
Black told detectives he also fantasised about sexual encounters with girls aged between eight and 12, but claimed he never acted these scenarios out in reality.
In the tapes, played on the 14th day of his trial, Black told detectives that his lust for child pornography had taken him to shops in Copenhagen and Amsterdam.
The serial killer's murderous reign of terror finally ended in 1990 when he was caught red handed with a six-year-old girl in the back of his van in the Scottish village of Stow. He had sexually assaulted her moments earlier.
In 1994 he was then convicted of three unsolved child murders in the 1980s - 11-year-old Susan Maxwell, from the Scottish borders, five-year-old Caroline Hogg, from Edinburgh, and Sarah Harper, 10, from Morley, near Leeds - and a failed abduction bid in Nottingham in 1988.
In his 1996 interviews with Northern Ireland police, which were read into the court record, Black refused to admit he was responsible for the murders of his three victims.
The officer put it to him that he had been found guilty in a fair trial. "This isn't a conspiracy," he added.
Black replied: "Feels like it."
The policeman asked Black what he had done.
"I've done things where I should have exerted a bit more self control, that's all," he said.
He said the incident when he snatched the girl in Stow was an example of letting his self control slip. But even then he refused to concede he intended to harm her.
"I had no intention of keeping her tied up and gagged like that," he said.
The officer asked him what his reaction would have been if she had died m the back of his van.
"I think I would have been devastated, I think that would be the word," he replied.
Black described three incidents when he said his self control had slipped - when he was found guilty of indecently assaulting a young girl when he was 16, three years later when he abused a girl he was supposed to be babysitting and, more than 20 years later, the abduction in Stow.
The officer pressed him to come clean on Jennifer's murder.
"Why don't you give the secrets up?" he asked. "Cos I ain't got no secrets to give up," Black replied.
The officer hinted that Black was himself the victim of abuse as a child.
"You too were a victim?" he said.
"Yeah," Black responded.
The detective put it to Black that he liked young girls.
"Yeah I couldn't hide that," he admitted. But he refused to accept he had murdered anyone.
"I don't like the idea of people thinking of me as a killer," he said.
The detective asked him if he had a problem accepting reality.
I have no problem with reality," he insisted.
The detective said snatching Jennifer would have been an easy crime as he could simply have got the ferry back to England without anyone ever suspecting him.
But Black maintained he did not know what happened to Jennifer.
"I would like to be able to help you but I can't," he said.


Black admits to `fantasising about abducting young girls'
Black trial day 15
Robert Black admitted fantasising about abducting young girls and abusing them in his van, his murder trial heard.
The 64-year-old Scottish paedophile also told police he used to wear dresses or a girl's swimsuit when acting out his fantasies.
Police tapes of Black revealing his deviant behaviour and perverse thoughts were played to the jury at Armagh Crown Court on Tuesday.
Recordings of the interviews detectives investigating Jennifer's case conducted with Black in 2005 were heard on the 15th day of the trial.
The jury listened as Black, who denies abducting and murdering Jennifer, outlined in graphic detail his sexual fantasies involving pre-pubescent girls.
When pressed by a detective, the former delivery driver admitted that in some of his dreams he imagined abducting a girl from the roadside in his van.
"I'd be driving along and see a young girl," he said.
I'd get out and talk to her and try to persuade her to get into the van and take her somewhere quiet.'
The police officer asked what would happen if the girl refused to go with him.
"In your fantasies that doesn't happen," he replied.
The officer asked Black where he would meet the girl in this scenario.
"Either a quiet urban street or a rural surrounding," he said.
The detective then asked him where he would take her in his fantasy.
"Maybe a lay-by somewhere in the quiet countryside where there's no other cars parked up, picnic area anything like that."
Black said in his head the girl would not resist his subsequent sexual advances in the back of the van.
And the prolific sex offender insisted that in his fantasy he would let her go again.
"I'd either drop her off somewhere or take her back to where I found her," he claimed.
On the 2005 police tapes, the killer was also asked about the items of young girls' clothing found in his van in Stow, including two dresses and a swimsuit.
Black admitted wearing these items.
The detective said the girl's one-piece swim suit was sized age eight to ten.
"I would have thought that was for a larger child than that," Black replied.
"Cause I know I could get it on and I'm no nymph."
He added: "When I was at home I sometimes put it on."
At stages during the exchanges about the haul found in the van, Black sounded irritated.
When asked to explain what he did with one of the items he had adapted to abuse himself, he snapped back.
"No you obviously know what it was for, I'm finished talking about that. I've done, done this before (talked about it to police after his arrest in Stow) and I'm not doing it again."
When the officer later asked him again to explain how he used the item, Black sniggered.
"No, I'm quite enjoying watching you struggle."