Return to previous page
New cookers on the way
THE aluminum bungalows at Barley Hill, Lisburn were set to get new cookers it was reported in the Star in October, 1958.
The decision was agreed by Lisburn Urban Council who agreed to replace the cookers as and when necessary as was difficult to get some parts
Friends in £1001000 fund appeal
FRIENDS School launched and appeal for cash to help fund a new extension in October, 1972.
The school's board of governors had met to discuss ways and means of raising the money.
The extension was expected to cost around £300,000 and while the Ministry would cover most of the cost a further £100,000 needed to be found.
The proposed new buildings would comprise an art and crafts room with pottery annex, art room, studio and store, metalwork room and store, two domestic science rooms and needlework annex, two music rooms and two practice rooms, a library and workroom. language laboratory, three general classrooms, two private study rooms and a staff room.
The boarding establishment would provide a number of study bedrooms, senior and junior boys' common room, senior and junior girls' common room.
Also in the pipeline were plans for a new sports pavilion and changing room, resource centre, closed circuit television, caretaker's house and the development of Prospect House.
PAST TIMES
Looking back at news from Lisburn's past
07 October 2011
Star reader Roy Graham submitted this old photograph of Lambeg Primary School Football Team thought to be around 1950/S1. Mr McGarvey, Billy Neill, Sam Edgar, Desmond McClarnon, Roy Graham, Raymond Cullen, Mr Priestly, Thomas Dodds, Sam McCue, Freddie Maguire, Stanley Moore, Thomas McKee and Jim Richardson.
Pipers' picture brings the memories flooding back for Hazel

Pipers' picture brings the memories flooding back for Hazel
Topless models cause a storm - just like Rihanna
IN the week that Rihanna hit the headlines for going topless in Northern Ireland during a shoot for her latest video we can look back to a story in the Star back in September 27, 1985 when top- less models were on their way to Lisburn.
It appears a storm erupted when news broke of top London models due to appear at the Conway Hotel in Dunmurry.
The girls were coming here for a gala event organised by a local photographic studio.
The Star reported some fears that the girls would go 'topless'.
However, the promoter said he knew nothing of any topless performances and that people were jumping the gun.
The Rev William Beattie, the then DUP councillor said: I am concerned there will be a display of female nakedness at the event. I am totally opposed to this sort of thing happening in this borough."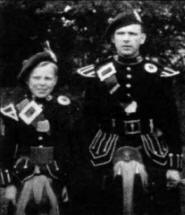 A PICTURE on the Past Times page a few weeks ago has brought memories flooding back for a former Lisburn woman now living in England.
Hazel Cairns from London was contacted by her aunt who told her an old picture of her father had appeared in the paper with an appeal for information.
And a delighted Hazel was able to fill in some of the blanks around the picture of Lisburn Pipe Band.
One reader was able to identify David Reid jnr, but didn't know who the other man in picture was.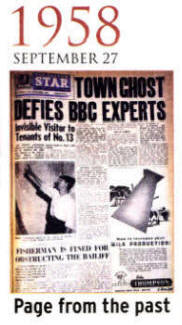 Both were members of the newly formed Lisburn Pipe Band which was started after the end of the Second World War and the pair were proudly displaying their band uniforms which were painstakingly made by family members.
The band had around 12 pipers, tenor drummers and side drummers at this time. Hazel received the copy of the Star from her aunt and got in touch to tell us a bit more.
"I could not get over it," a delighted Hazel said. "I think my father was 25 at the time. I vaguely remember seeing that picture before.
"It was taken just after World War two and he was a tenor drummer in the band. He went on to play the big drum. As far as I remember he was always in a pipe band.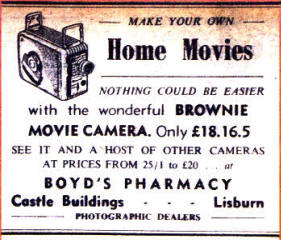 "Hazel recalls her father, who worked as a wood machinist and lived at Warren Gardens at the time, joining the Lisburn Pipe Band and later moving onto Finaghy Pipe Band.
"He retired from the Finaghy Pipe Band as he could not have walked from Belfast to Finaghy which was what you did on the Twelfth in those days" Hazel said.
In the early 60's you could make your own home movies with this Brownie Movie Camera on sale at Boyd's Pharmacy for over £18.
Daylight robbery at local bank
TWO armed men got away with an undisclosed sum of money following a raid on the Bank of Ireland in Lisburn in October, 1972. The staff in the Market Square branch were held at gunpoint around noon while money was bundled into a plastic bag. The robbers then walked out the front door and disappeared among the shoppers before police arrived. Police searched a bus they believed the men had boarded when it pulled up outside the bank, but they failed to find the thieves.
Shortage of water
BECAUSE of a prolonged dry spell in October, 1969 the Star reported a water shortage. Water rationing was introduced in Lisburn for 12 hours a day from 8.00am to 8.00pm. The water supply had been turned off for several weeks but it was hoped the situation would slowly begin to improve. • Lisburn had been getting supplies from its own deep bore wells.
Page 1 | page 2 | Page 3 | Page 4 | Page 5 | Page 6 | Page 7 | Page 8 | Page 9 | Page 10 | Page 11 | Page 12 | Page 13 | Page 14 | Page 15 | Page 16 | Page 17 | Page 18 | Page 19 | Page 20 | Page 21 | Page 22 | Page 23 | Page 24 | Page 25 | Page 26 | Page 27 | Page 28 | Page 29 | Page 30 | Page 31 | Page 32 | Page 33 | Page 34 | Page 35 | Page 36 | Page 37 | Page 38 | Page 39 | Page 40 | Page 41 | Page 42 | Page 43 | Page 44 | Page 45 | Page 46 | Page 47 | Page 48 | Page 49 | Page 50 | Page 52 | Page 53 | Page 54 | Page 55 | Page 56 |
Ulster Star
07/10/2011