PAST TIMES
Looking back at news from Lisburn's past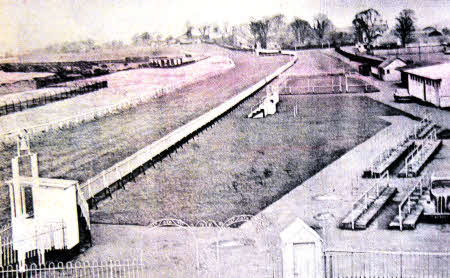 The Down Royal Racecourse is all set for a big summer two day Festival this Friday and Saturday. How things have changed down the years at the famous racecourse. This picture of the stands and enclosure was taken back in 1966.
Rats get fat on the poison
HILLSBOROUGH Rural Council's Mr W. E. C. O'Brien, the divisional sanitary officer made the news in the Star after complaining about rat infestations in June 1958.
Mr O'Brien had explained to the council that despite their efforts, the rat population was too high in Lisburn.
Mr T. Johnston from Edenderry said his area had houses overrun with rats and if people fed them poison it only fattened them, which helped them breed.
Mr John Johnston, the council chairman thought the poison fattened the rats so much that they would die and said that the then new control of rats had been publicised through the press for years back then. Mr J. C. Clague, the clerk had pointed out that it was a pity rats couldn't read about the problem in newspapers to which Mr O'Brien replied it was good that they can't read. Dr. S. Hayes divisional M. O. H. had said his department was anxious to co-operate in the destruction of the 'pests'.

Jobs on the way in £9m investment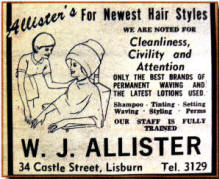 A MAJOR upgrade at a Lisburn engineering firm would see the creation of 187 jobs thanks to a multi-million pound investment programme which was revealed in June 1999.
Local company EM Solutions, formerly BEMAC EMS at Ballinderry Road, were to invest £8.9 million to increase exports and provide new jobs over the next four years.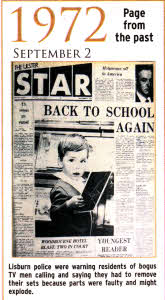 First Minister David Trimble and Deputy First Minister Seamus Mallon announced the investment during a visit to Lisburn. The company, which employed 300 people, designed and manufactured sheet metal cabinets, racks and chasis and provided cable assembly services to international companies in electronics, telecommunications and computers.
Lisburn resident Mr Trimble said the investment was not only important for Lisburn but for Northern Ireland as well.
"I was delighted to visit EM Solutions during the IDB Roadshow in Longmont, Denver, and to hear from the company's management about their ambitious plans for the Lisburn operation, which it acquired in 1997 to provide base from which to increase the groups European business," he said.
"This is a company which has its sights on becoming a global leader. As such, it is a very substantial endorsement of Northern Ireland as the right location for world class manufacturing companies.
"The Lisburn operation is being equipped with state of the art technology and the latest systems to become the groups European manufacturing centre of excellence and will provide an extensive range of consistently high quality products and customer focused services to global markets."
Mr Mallon added: "This is a significant investment which demonstrates the confidence which EM Solutions has in the quality, skills and motivation of the workforce in Lisburn and in Northern Ireland."
Lisburn police were warning residents of bogus TV men calling and saying they had to remove their sets because parts were faulty and might explode.
This Ulster Star advert was printed in 1966 and ladies were able to try the latest hairstyles at WJ Allister
Boating Club 'floated' into action
LISBURN'S Boating Club was officially formed in June 1972 as 35 people turned up to the first meeting, saying they were +ready to join the then newest sporting group.
The Lisburn club was already planning for the future as they had met with the Ministry of Agriculture in order to have a mooring point and ramp L built.
Local people were also elected as office bearers including Mr Charles Simpson as Chairman, L. D. Altura was appointed honorary secretary, W. Franklin as honorary treasurer, P. Doolin became press officer while committee members included S. Swain, J. Tooms and V. Kennedy.
Children rob church
CHILDREN were believed to have broken into Lambeg Parish Church in June 1958. Entrance to the church was thought to be through a stained glass window with a hole 18 inches wide.
The culprits had smashed the window in order to tear up a hymn book, steal two brass vases and escape through a door in the church all while the Minister of the Church, Rev. R. E. W. Thornton B. D. had been in England.
Page 1 | page 2 | Page 3 | Page 4 | Page 5 | Page 6 | Page 7 | Page 8 | Page 9 | Page 10 | Page 11 | Page 12 | Page 13 | Page 14 | Page 15 | Page 16 | Page 17 | Page 18 | Page 19 | Page 20 | Page 21 | Page 22 | Page 23 | Page 24 | Page 25 | Page 26 | Page 27 | Page 28 | Page 29 | Page 30 | Page 31 | Page 32 | Page 33 | Page 34 | Page 35 | Page 36 | Page 37 | Page 38 | Page 39 | Page 40 | Page 41 | Page 42 | Page 43 | Page 44 | Page 45 | Page 46 | Page 47 | Page 48 | Page 49 | Page 50 | Page 51 | Page 52 | Page 53 | Page 54 | Page 55 | Page 56 | Page 57 |
Ulster Star
22/06/2012