PAST TIMES
Looking back at news from Lisburn's past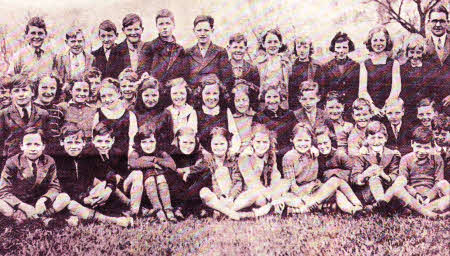 This photo of the class of '39 at Finaghy Public Elementary School with teacher George Power, was submitted by local man Bill McKee who thought it would be good to try and stir up some old memories.
Dutch Elms `burns' itself out
IN August 1986 the severe outbreak of Dutch Elm disease, which devastated local shrub and tree life the previous two years, finally left Lisburn.
Attacks on many elms throughout Belfast confirmed that the fungal disease, carried by a beetle, had moved on from Lisburn.
Emergency measures were taken by Belfast City Council parks department in a bid to control the widespread devastation, previously experienced locally.
The disease first came to Ballinderry from Armagh spread slowly through the borough, attacking hundreds of elm trees. Evidence of the destruction could be seen on the Moira Road, where many trees withered and died.
One of the first outbreaks of the Fire Blight, another crippling bacterial disease carried by insects, wind and rain was also detected in the province.
Particularly susceptible are trees and shrubs such as Fire, Thorn, Cotoneaster, Rowan trees, Pear trees and ornamental Quinces.
To help reduce infection, should evidence of this disease be discovered in Lisburn, locals are advised to remove and burn all diseased material immediately.
Mass exodus from Suffolk as families threatened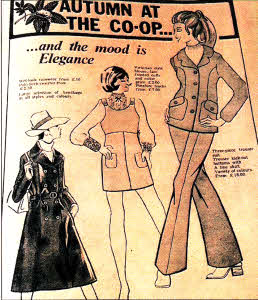 In August 1971 some 40 families...most of them Protestant, left their homes at the Northern Ireland Housing Trust's Suffolk Estate on a state of fear.
They lived in the upper part of the estate which had gone almost completely Roman Catholic.
Once the families moved out, squatters moved in.
The trickle of unhappy Protestant families increased in volume following tension.
Church leaders in the area tried desperately to slow down the mass exodus, but in vain.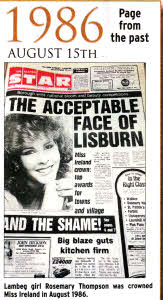 The Protestants would not listen, they had had enough. Some families who came from Belfast as a result of earlier troubles, were moving house for the second time.
A good number who wanted to settle permanently in a secure area were relieved to get houses in Ballybeen, Dundonald, Seymour Hill and Twinbrook, Dunmurry and Old Warren Lisburn.
As the families moved out soldiers kept watch for snipers.
The situation in human terms was miserable. Some families were intimidated - one family was in a Suffolk school after invaders tossed their goods onto the front lawn.
Organised groups were known to be active on behalf of squatters. Protestants reacted by looking after the interests of their own people who wished to stay or move to another 'quieter' spot on the estate.
Housing allocation for the area was in complete shambles.
Those who had been on a waiting list for houses would now have to wait longer.
Suffolk estate was divided by the Stewarts-town Road. The bottom part containing some 600 homes was predominantly Protestant as was the area just above the road.
But there was anxiety that an eventful polarisation would take place on either side of the road, between Protestant and Catholic. Immediately the trouble began at Suffolk an emergency centre for refugees at Finaghy Primary School.
On the first night some 70 children stayed overnight at the centre but as parents moved out to new homes elsewhere numbers dropped to around 40 on successive nights. Clergymen patrolled the estate.
Stylish new fashion was on offer at the Co-Op in 1971
Local girl Rosemary Thompson was crowned Miss Ireland in August 1986
Rails fares flare up
THE number of passengers using the Great Northern Railway's trains between Moira and Belfast seemed likely to drop still further following the announcement that all monthly tickets between Belfast and Moira would cost more from August 31, it was reported in the Star in August 1958.
The announcement followed reports that fares were likely to be increased all round when the Ulster Transport Authority took over the GNR on October 1.
Hero's return for Sam Lockhart
THREE hundred well wishers packed Hillhall's Braniel Hall in August 1966 to welcome home Sam Lockhart, Lisburn's boxing hero at the Empire Games in Jamaica by winning a bronze medal at the games. It was a night to remember for the Amateur Boxer
Page 1 | page 2 | Page 3 | Page 4 | Page 5 | Page 6 | Page 7 | Page 8 | Page 9 | Page 10 | Page 11 | Page 12 | Page 13 | Page 14 | Page 15 | Page 16 | Page 17 | Page 18 | Page 19 | Page 20 | Page 21 | Page 22 | Page 23 | Page 24 | Page 25 | Page 26 | Page 27 | Page 28 | Page 29 | Page 30 | Page 31 | Page 32 | Page 33 | Page 34 | Page 35 | Page 36 | Page 37 | Page 38 | Page 39 | Page 40 | Page 41 | Page 42 | Page 43 | Page 44 | Page 45 | Page 46 | Page 47 | Page 48 | Page 49 | Page 50 | Page 51 | Page 52 | Page 53 | Page 54 | Page 55 | Page 56 | Page 57 |
Ulster Star
03/02/2012