Clubs combine for
'Blind Date'
THE unusual combination of Lisburn Rangers Football Club and Friends' School Old Girls teamed up in April 1988 for an evening with a difference!
The two came together to stage a local version of Cilla Black's popular TV show 'Blind Date.
AS the girls quizzed the boys, there was much hilarity and original anecdotes, with the two couples from the night set to enjoy a date at the Mucky Duck.
The outcome of the evening was eagerly awaited by all their friends.
Champs again
Elsewhere in April 1988, Lisnagarvey Hockey Club's second side were champions again.
A win at Holywood would see them crowned Junior Section 1 League champions, whilst defeat would leave them facing a tense play-off against their own Thirds. However, they trounced Holywood Thirds 4-0, and looked every inch champions.
Pupils to drive to Algeria!
IN JUNE 1967, a party of pupils from Friends' School Lisburn planned to travel 2,500 miles to deliver two Land Rovers to a team working in one of the world's most underprivileged areas.
Their destination was Algeria, where they delivered the vehicles. These were then used by a team of doctors as mobile medical stations to aid refugees.
PAST TIMES
Looking back at news from Lisburn's past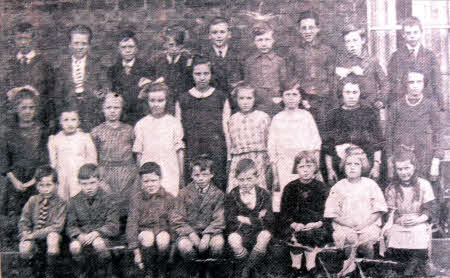 This picture of Trinity Public Elementary School in Dunmurry was sent to the Star by a reader back in the 1970s. It's thought it was taken around 1920.
Casualty crisis at
Lagan Valley
A CRISIS concerning the casualty department at Lagan Valley Hospital caused friction amongst medical staff in July 1971.
Medical staff, already depleted in numbers, said they were no longer prepared to work extra hours to keep the department open throughout the night and at weekends.
But despite an ultimatum from the hospital doctors that they would no longer work the extra hours between 5pm and 9am on top of their daily chores, they were still expected to carry on.
Fears that surgical and accident victims would not be treated were dispelled by hospital chairman Mr. Harry McCarrison.
He said: "These would normally be admitted immediately to wards and there is no change there."
However, the Star reported that if the hospital doctors kept their word, the casualty department may have to close down at 12pm. This meant that callers seeking treatment would have to go elsewhere or wait to the next morning.
The Hospitals Authority confirmed that the Lagan Valley had no permission to close down the service, but if staff were unavailable there was no alternative.
How long the tense situation was set to go on was still unclear. Meanwhile, vacancies for part-time doctors were being advertised and the Authority was seeking a meeting with local GPs
On-the-spot fines for local motorists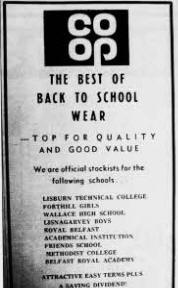 IN JULY 1971, the Star reported that the Borough Council's controversial
traffic by-laws were here to stay as a plea was made for motorists to work with the town's four traffic wardens.
Efforts by the Chamber of Commerce to have the rules relaxed had failed, so motorists who breached the new regulations ran the risk of an on-the-spot fine.
Wardens were empowered to issue instant £2 parking tickets although time to pay was allowed. Ministry approval of the Council's proposals, aimed at cleaning up messy parking habits, brought to an end a long drawn out wrangle.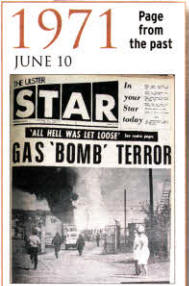 This meant that the four traffic wardens introduced in October of the previous year could go about their job with much more conviction.
But as Chief Superintendent John Henderson, head of the RUC traffic division, had pointed out quite clearly, the wardens must be prepared to enforce the new by-laws with good common sense, always exercising good judgement. It would not be an easy job or a pleasant one he warned. There would always be those people who would claim they were hard done by. But in the event of this happening, offenders who reckoned they had a genuine case could take the matter up with the senior police constable responsible for the wardens.
And if satisfaction was still not forthcoming then the courts would have to decide.
There was also a plea from Chief Superintendent Henderson: "I would ask that the motoring community assist the wardens in their difficult task by obeying, in the proper spirit, the by-laws formulated by the Lisburn Borough Council."
The Mayor Councillor Hugh G. Bass said at the time that the traffic wardens were here at the request of the Borough Council. The aim was not to restrict motorists in any way but to ration road space fairly for the benefit of everyone who wanted to use it. He was convinced the wardens were prepared to be as lenient as possible and called for co-operation from the motoring public to ensure the success of the new by-laws and to keep fines down to a minimum.
The Co-op is no more in Castle Street, but it was busy with back to school in August 1971
A massive explosion in Lisburn wasn't— caused a bomb but by a leak at the Kosangas storage depot in Benson Street. The resulting blaze was said to have been one of the biggest ever seen in the town.
Geoffrey on trial with 'United'
EX LISNAGARVEY schoolboy Geoffrey Gorman fulfilled his dream in July 1969 by starting trials with Manchester United. He and Belfast lad Sammy Mcllroy both began training with the Manchester United team 43 years ago this month.
Ghost 'homeless' after blaze
THE LEGENDARY strolls of the Gillhall ghost came to a sudden end on Sunday morning, June 7 1969, when Gillhall Castle, Dromore, was gutted by fire.
Police and forensic experts investigated the charred remains of the 18th century mansion which had long been rumoured to be haunted.
Page 1 | page 2 | Page 3 | Page 4 | Page 5 | Page 6 | Page 7 | Page 8 | Page 9 | Page 10 | Page 11 | Page 12 | Page 13 | Page 14 | Page 15 | Page 16 | Page 17 | Page 18 | Page 19 | Page 20 | Page 21 | Page 22 | Page 23 | Page 24 | Page 25 | Page 26 | Page 27 | Page 28 | Page 29 | Page 30 | Page 31 | Page 32 | Page 33 | Page 34 | Page 35 | Page 36 | Page 37 | Page 38 | Page 39 | Page 40 | Page 41 | Page 42 | Page 43 | Page 44 | Page 45 | Page 46 | Page 47 | Page 48 | Page 49 | Page 50 | Page 51 | Page 52 | Page 53 | Page 54 | Page 55 | Page 56 | Page 57 |
Ulster Star
03/08/2012