Plea to motorists to take keys
A SENIOR police officer was appealing to motorists not to leave keys in the ignition of their cars while they were away from the vehicles.
The plea came from the District Inspector in Dunmurry Petty Sessions in March 1966.
He said young people to day seemed to have a course for stealing cars and he asked drivers to be more careful about taking the keys out of their vehicles and locking them so as not to put temptation in the way
The RM, Mr A Lunn, said he thought that having regard to aII the publicity that had
been given to the problem that motorists should be doing the sensible thing and not leaving unlocked parked vehicles and should always be taking their keys with them.
Design for tie approved
THE design for a proposed Hillsborough tie and the sign to be erected at the entrance to the village were both approved at a meeting of the Hillsborough Committee in March 1966.
Considerable discussion had taken place about the new sports ground to be erected by the council and a number of members of the committee expressed the hope it would include a bowling green.
Side roads were also up for discussion and the secretary was directed to write to Down County Council to see if something could be done to remove the accumulation of rubbish which had built up on many of the roads in the area.
PAST TIMES
Looking back at news from Lisburn's past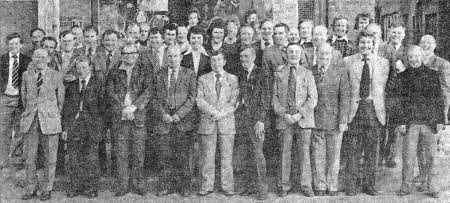 Members of Lisburn and District Angling Club before they left for a weekend's fishing 36 years ago in May 1976.The 42 anglers caught 162 fish between them over the two days. The picture was sent in by Star reader George Wills
Clean up this dump plead parents
AN anxious group of Lisburn Housing Executive tenants appealed in April 1985 for help with a problem which they feared could result in the serious injury or death of one of their children. The tenants, who occupied an entire row of houses on the Manor Park area of the town, were united in their desperation to clear up a plot of land which ran along the back of their homes and which they believed posed a threat to their children who played beside it.
One mother had seen her little boy covered in insect bites after had had been playing beside the land and others had to replace items of their children's clothes which had been torn by wire fencing on the ground around the area.
The mothers also lived in fear of rats as it was a perfect habitat for the unfriendly rodents who congregated in their hundreds at this highly populated area of the town.
Although residents informed the public health authorities, they said very little had been done to clean the site up. Cllr Ivan Davis had taken up their case after saying he was as horrified as the tenants at the state of the land.
Lisburn health services set to get sliced in Government cuts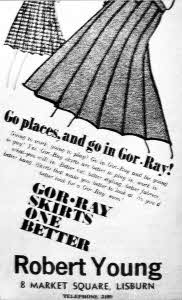 IN 1985 it was revealed that cuts demanded by the Government would result in cuts of between £75,000 and £300,000 to the amount of money spent on health in Lisburn.
Units of management in the Eastern Board area were being told to exercise economies which would result in a saving of £4 million.
The Lisburn unit of the Board had a budget of £15 million and each unit had been old to spend between 0.5 percent and 2 percent less.
The Area Executive Team was asking all the units of management, including Lisburn, to devise money-saving schemes, which avoided taking action which would directly affect patient services.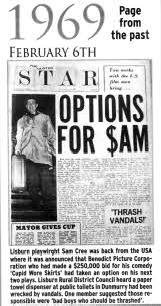 But local councillor and Eastern Health Board member, Councillor William Bleakes, pointed out that, in fact, Lisburn had always got less than its share of the budget and was asking why people here should lose out again.
And he urged the Government to allow more time for the Board to formulate policies to take account of the reduced spending.
"Lisburn has always been in an underspend situation. I fail to see why we should be expected to subsidise other areas" Mr Bleakes said.
The possibility of job losses had been mentioned by the Board Chairman but Mr Bleakes re-assured Lisburn Health employees: "There should be no reason for panic. I will do my utmost to protect the Lisburn area, monitoring the cutbacks to ensure that services are not affected," he said.
Mr Bleakes also made a plea to the government to make the Eastern Board, which was set to open a £2 million Tower Block at the City Hospital in October, a special case.
We will not not be blackmailed into following policies detrimental to the consumer," he warned.
Lisburn playwirght Sam Cree was back from the USA where it was announced that Benedict Picture Corporation who had made a $250,000 bid for his comedy 'Cupid Wore Skirts' had taken an option on his next two plays. Lisburn Rural District Council heard a paper towel dispenser at public toilets in Dunmurry had been wrecked by vandals. One member suggested those responsible were 'bad boys who should be thrashed'.
Never mind nylon or acryllic, Gor Ray was the new in fabric for skirts back in 1966. The up to date lady could go to Robert Young's in Market Square.
Flushed with success
THE Ministry of Development was asked in March 1966 to approve a plan for water from the Dundrod River to be used to flush toilets in 18 homes owned by Lisburn Rural district Council n the village.
A letter from residents stressed they would not use the water for drinking. That would be taken from the pump as usual.
The Divisional Medical Officer approved the scheme t the council provided it was only for use in flushing toilets. But he said he hoped the council would continue to push for a piped water supply for the area.
Page 1 | page 2 | Page 3 | Page 4 | Page 5 | Page 6 | Page 7 | Page 8 | Page 9 | Page 10 | Page 11 | Page 12 | Page 13 | Page 14 | Page 15 | Page 16 | Page 17 | Page 18 | Page 19 | Page 20 | Page 21 | Page 22 | Page 23 | Page 24 | Page 25 | Page 26 | Page 27 | Page 28 | Page 29 | Page 30 | Page 31 | Page 32 | Page 33 | Page 34 | Page 35 | Page 36 | Page 37 | Page 38 | Page 39 | Page 40 | Page 41 | Page 42 | Page 43 | Page 44 | Page 45 | Page 46 | Page 47 | Page 48 | Page 49 | Page 50 | Page 51 | Page 52 | Page 53 | Page 54 | Page 55 | Page 56 | Page 57 |
Ulster Star
06/04/2012