PAST TIMES
Looking back at news from Lisburn's past
14 October 2011
Star reader Roy Graham submitted this old photograph of Lambeg Primary School Football Team (1948.49). Winners Schools' Senior Cup and Lisburn Schools' Cup. W. Dougherty, J. McQuillan , H. Watson, R. Waring, W. Kennedy, R. Graham, J. Hillocks, W. Tolerton, F. Maguire, S. Toland, C. Minford and J. Gill.
Lost letter sheds new light on soldier's death
Plans revealed for major new in shopping centre
IN 1985 it was revealed that Lisburn was to have a major multimillion pound shopping centre. It was to be based around the Blaris Road in the roundabout area and was regarded as one of the most exciting property happenings in Northern Ireland.
The shopping centre was to include the arrival of the first out of town Marks and Spencer in I Northern Ireland.
Initial indications were that the centre could accommodate up to 36 shops making it one of the
I biggest of its kind outside Belfast.
At the time the Lisburn unemployment figures had reached a new record total and the news of the shopping centre was being seen as a huge boost to the area because of the jobs it would create.
Negotiations had been going on I for a long time and it was hoped the scheme would get the go-ahead as soon as possible.
Bomb blast rocks Lisburn
1971 the IRA struck in Lisburn for the second time within a week. The central shopping area of Market Square was rocked by a very heavy blast which went off outside the County Antrim Arms Public House.
The pub was wrecked and severe damage was caused to a number of buildings close by. No one was injured in the blast which happened at 1.15am.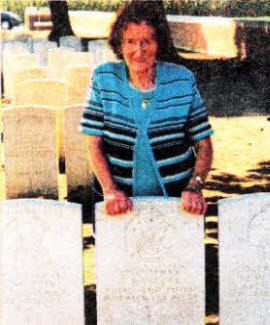 Betty Ogle at George McClure's grave
A LETTER home from the Western Front dated April 18, 1918 has thrown new light on the death of a Moira man killed in Flanders in the closing months of the Great War.
The perfectly preserved letter, signed WI Allen, is believed to been written by the Commanding Officer of Rifleman George McClure of the 36th Ulster Division who is buried at Canada Farm Cemetery, outside Ypres in Belgium.
Previously Rifleman McClure was thought by his family to have died from wounds sustained in the Third Battle of Ypres as Canada Farm was a dressing station or field hospital.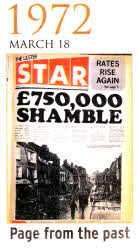 But now, according to the letter, found recently inside a book belonging to his late sister Anna Tate, at Carnbane Road, Lisburn, he was killed by enemy shellfire while on sentry duty on the night of April 17.
Canada Farm is at El verdinge on the Woesten Road three miles from Ypres, but more significantly the site of the cemetery is on a quiet country thoroughfare, the ends of which were christened Donacloney Corner and Dromore Corner. It was traditional for British soldiers to christen local roads and lanes with names to remind them of home, so it indicates that there were quite a lot of local servicemen in this particular area. A soldier buried next to Rifleman McClure is Rifleman Fred Law, also from Moira.
The letter dated April 18, 1918 reads:
"Dear Mr/Mrs McClure, It is with profound regret and sorrow that I learned this morning of the death of Rifleman G McClure which took place last night by enemy shellfire, while at his post of duty for his King and Country.
"We feel his loss very much as he was one of the first to join this Battalion.
"But great as our loss is, yours will be greater, and if sympathy helps you to bear the burden of sorrow then it will be easier borne, for every heart beats in truest sympathy with yours in this sad hour of bereavement.
"May the Divine Comforter be your true consolation in the hours of temporary separation.
"Yours, WI Allen."
Brian Ogle, who turned up the letter, said: "Rifleman McClure would have been my mother's uncle, and she travelled to Canada Farm no fewer than 10 times while in her seventies to visit the grave at Canada Farm.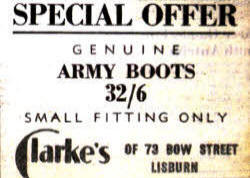 FANCY a new pair of boots? You could have snapped up these Army Boots from Clarke's in Bow Street for 32/6 (about £1.52) back in 1958.
"The cemetery register gave no information, nor could we get any, about the circumstances of his actual death, but we presumed that he must have died from wounds as Canada Farm was the name of a field hospital or dressing station.
"Now it appears he was killed by shellfire while on sentry duty, so this adds another little piece to the mystery of what happened to George. Until we found his grave about 15 years ago the general assumption by the family was that he had died at the Somme."
Betty Ogle, who sadly died recently, had a memorial plaque to her late uncle dedicated in St George's Church, Ypres, in May 2004, and travelled along with other family members to the service of dedication which included the playing of the Last Post. The plaque is prominently displayed at the side of the entrance door to St George's -" a place of pilgrimage to thousands of UK and Commonwealth visitors each year to the Ypres salient - and one of the very few naming an Ulster soldier in St George's.
Drinkers come to town to beat early closing
THE shutters went up early Lisburn pubs in 1969 when al publicans couldn't cope with all those who could not get a drink in Belfast because of the Government's ban on sales after 7pm and so came to Lisburn.
Pub doors were closed as early as 6.30pm and many, people had to go home with- as much as a single beer.
Some hotels in the area also took steps to regulate the numbers. The Woodlands hotel in the town was also said to be packed.
Page 1 | page 2 | Page 3 | Page 4 | Page 5 | Page 6 | Page 7 | Page 8 | Page 9 | Page 10 | Page 11 | Page 12 | Page 13 | Page 14 | Page 15 | Page 16 | Page 17 | Page 18 | Page 19 | Page 20 | Page 21 | Page 22 | Page 23 | Page 24 | Page 25 | Page 26 | Page 27 | Page 28 | Page 29 | Page 30 | Page 31 | Page 32 | Page 33 | Page 34 | Page 35 | Page 36 | Page 37 | Page 38 | Page 39 | Page 40 | Page 41 | Page 42 | Page 43 | Page 44 | Page 45 | Page 46 | Page 47 | Page 48 | Page 49 | Page 50 | Page 52 | Page 53 | Page 54 | Page 55 | Page 56 |
Ulster Star
14/10/2011