Pollution scare on the Lagan
IN October 1986
the River Lagan around Newholland Sewage Works sparked of a new wave of Controversy with residents who threatened to call in EEC investigators to alleviate the problem.

Dead fish surfaced it their thousands, the stench of the river became almost unbearable, a hazy blue shimmering mist engulfed the nearby fields and the big worry of local people was that their health was being seriously threatened. The year before an independent investigation of the state of the Lagan revealed it to be dangerous.
Hockey move
LISNAGARVEY Hockey Club Secretary, Howard Clarke, in October l986 flatly denied rumours that club members were discussing a £900,000 bid for their grounds.
Speculation had been mounting suggesting a completion of the deal within a few days. Supermarket giants Marks and Spencer were one of a handful of companies thought to have expressed a keen interest in the land at Sprucefield on the outskirts of the town. Garvey Stalwart Clarke could only confirm that negotiations are in progress'.
PAST TIMES
Looking back at news from Lisburn's past

Members of Lisburn Golf Club pictured with their captain Mr Arthur Johnston during Captain's Day in June 1969.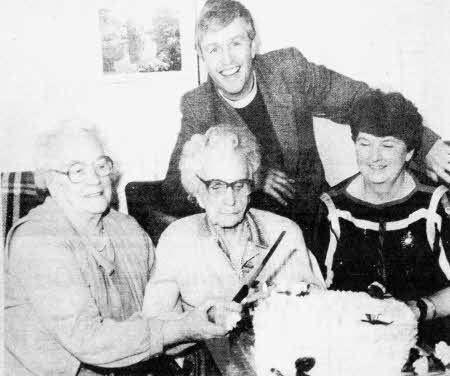 Mrs. Armstrong cuts her cake to celebrate her 102 birthday watched by her daughter, Mrs. Jane Clements, Mrs. Esme Lilburn, Lisburn's Mayoress and the Rev Stuart Lloyd, Rector of All Saints Eglantine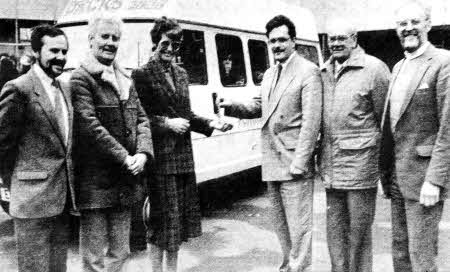 Miss Geraldine Tigchelaar, Headmistress of Fort Hill Girls' School, Lisburn, receives the keys of a new minibus from Mr John Millar from Dick and Company, Mallusk.
'Area could become slum'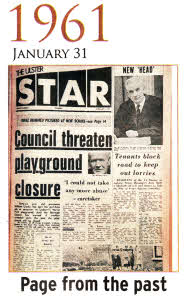 A WARNING that the closely packed housing area at Dunmurry and Finaghy could become a slum area was raised in October 1969 by Mr. William Creighton, chairman of the Finaghy and District Ratepayers Association.
Speaking at a meeting on the proposed Dunmurry by-pass, Mr. Creighton said there were several different aspects to be considered. He was of the opinion that the proposed road and housing schemes would adversely affect Dunmurry and Finaghy. He said: The road ' roundabout complex will seriously interfere with local traffic both. entering and leaving
A shortage of water in October
In October 1969 because of a long dry spell, water rationing in Lisburn continued for 2 hours a day.
The supply had been turned off for several weeks and the level of water in reservoir was rising gradually.
It was hoped that conditions would improve. In some parts of the area the supply position could have been serious if rain didn't fall.
Centralised housing authority plan disgust
IN October 1969 there was a swift reaction to the government's plan to create a centralised housing authority. It was described as 'madness' and disgusting.
Condemnation of the plan came from both the Borough and Hillsborough Rural Council.
One member of Hillsborough Council Mr John W. Henderson declared: "it seems that the country is heading for bureaucracy instead of democracy."
And Mr. David Titterington snapped: "Let us ignore the Government until it puts its own house in order."
Mayor James Howard declared; "Local Government is what the people want. Local people know foal needs and I would tell the government to be careful before it goes too far."
And Alderman Samuel Higginson was just as blunt. He said: These proposals should be resisted by all means at our disposal."
Councillor James McKeown said: "Nothing so undemocratic has been done in this country since the time of Nazi Germany. I believe Mr. Faulkner has been pressurised by the British Home Secretary and if he was a true man he would resign."
Page 1 | page 2 | Page 3 | Page 4 | Page 5 | Page 6 | Page 7 | Page 8 | Page 9 | Page 10 | Page 11 | Page 12 | Page 13 | Page 14 | Page 15 | Page 16 | Page 17 | Page 18 | Page 19 | Page 20 | Page 21 | Page 22 | Page 23 | Page 24 | Page 25 | Page 26 | Page 27 | Page 28 | Page 29 | Page 30 | Page 31 | Page 32 | Page 33 | Page 34 | Page 35 | Page 36 | Page 37 | Page 38 | Page 39 | Page 40 | Page 41 | Page 42 | Page 43 | Page 44 | Page 45 | Page 46 | Page 47 | Page 48 | Page 49 | Page 50 | Page 51 | Page 52 | Page 53 | Page 54 | Page 55 | Page 56 | Page 57 |
Ulster Star
12/0/2012